Talented Tom takes the win in Tamworth
Amy-Sue Alston Photography
Above: Tom McDermott and Cooley Gangster. Photo Credit Amy-Sue Alston.
The sixth leg of the 2023 Australian FEI World Cup Qualifying Series was held last night at AELEC in Tamworth, with the win going to Tom McDermott and his gelding Cooley Gangster. It was a great competition which saw Tom take the win by just 1.25 seconds after no less than seven combinations were tied on penalties at the conclusion of the class.
A total of 19 combinations lined up for the competition which saw just one clear in the first round, achieved by last week's Waratah World Cup runners-up Madeline Sinderberry and Camie Z. They were joined in the second round by the five combinations who took a single rail and a further five combinations who recorded eight faults. They could have been joined by the fastest first round 12-fault combination, however Billy Raymont and Dakardo declined to participate in the second round.
Advertisement


Instead, Billy, concentrating on riding his World Cup point scoring nomination, Caprino, opened the second round with a fast, (52.12 seconds) clear round to set the standard for those to follow.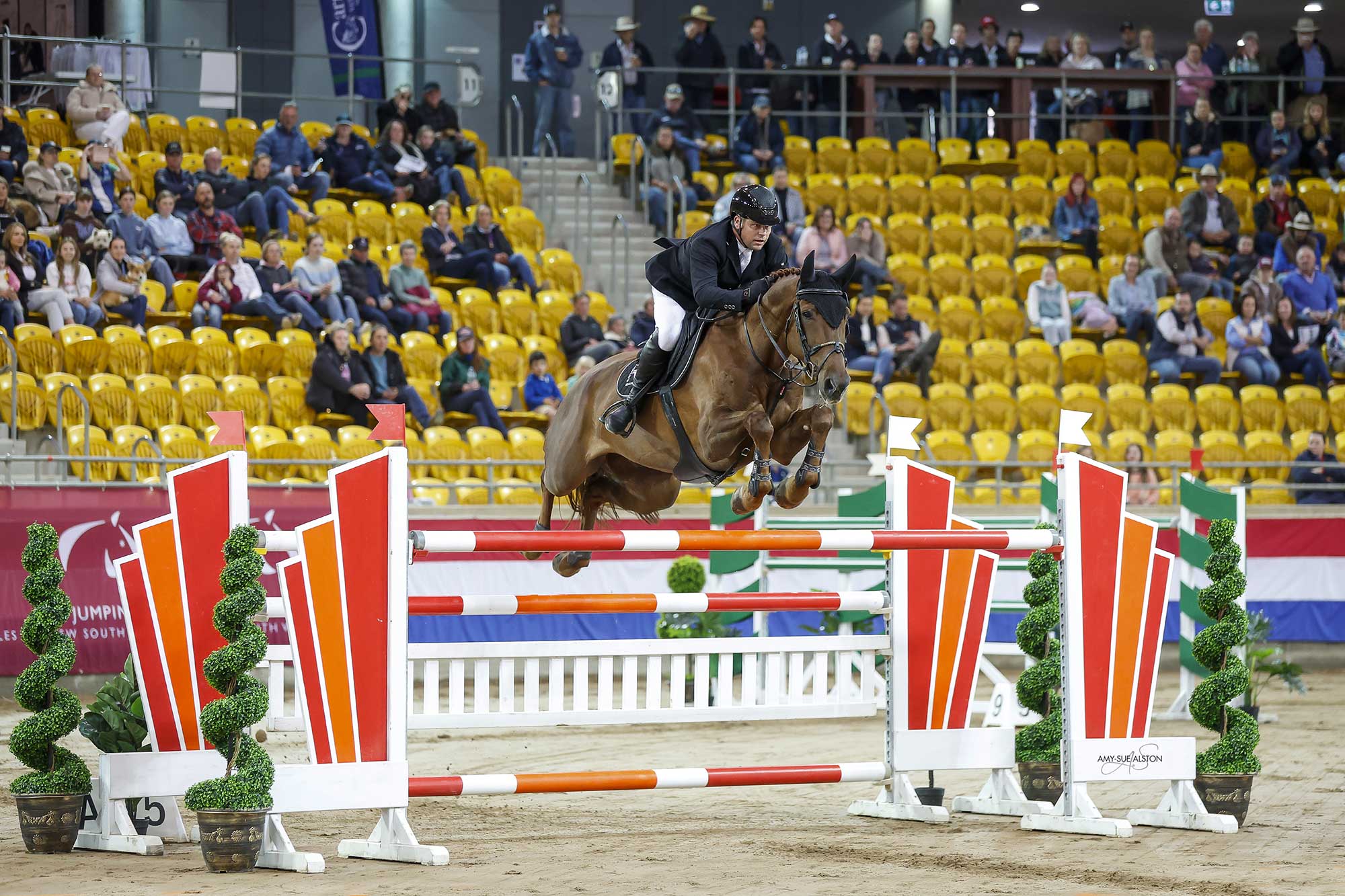 Above: Billy Raymont and Caprino. Photo Credit: Amy-Sue Alston Photography.
The next three combinations on course, Mattea Davidson and Checkamour D, last week's Ekka stars Stuart Jenkins and Fairview Alicana and then again Mattea Davidson, this time with Jaybee Vigilante, all went clear in the second round, to join Billy and Caprino on a final total of eight, although Jenkins and Fairview Alicana held the lead due to their superior time of 51.71 seconds.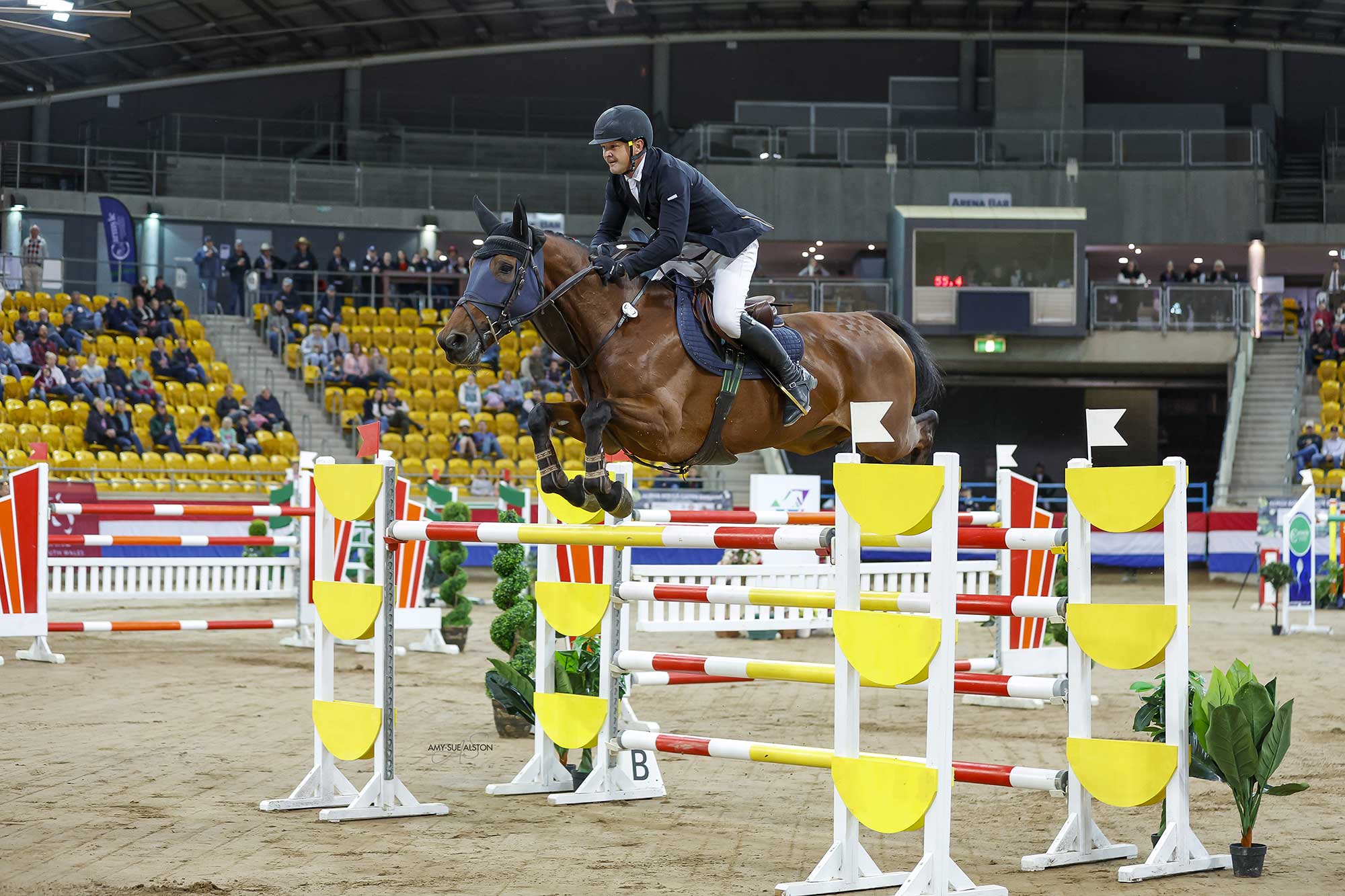 Stuart Jenkins and Fairview Alicana. Photo Credit: Amy-Sue Alston Photography.
The fifth 8-faulter on course, New Zealand visitors Sam Whale and Fleur DeLacour, did not fare as well, taking a further two rails to finish with 16 points, which eventually saw them finish eleventh.
Now it was time for the 4-faulters to enter the fray. The first of these were Tom and Cooley Gangster, who, unusually for them, had recorded the slowest time of the five. They were perfect up until the second last fence, where a rail meant that they joined the other four combinations with a final total of eight, however, their time of 50.46 seconds was enough to push everybody one slot down the leaderboard.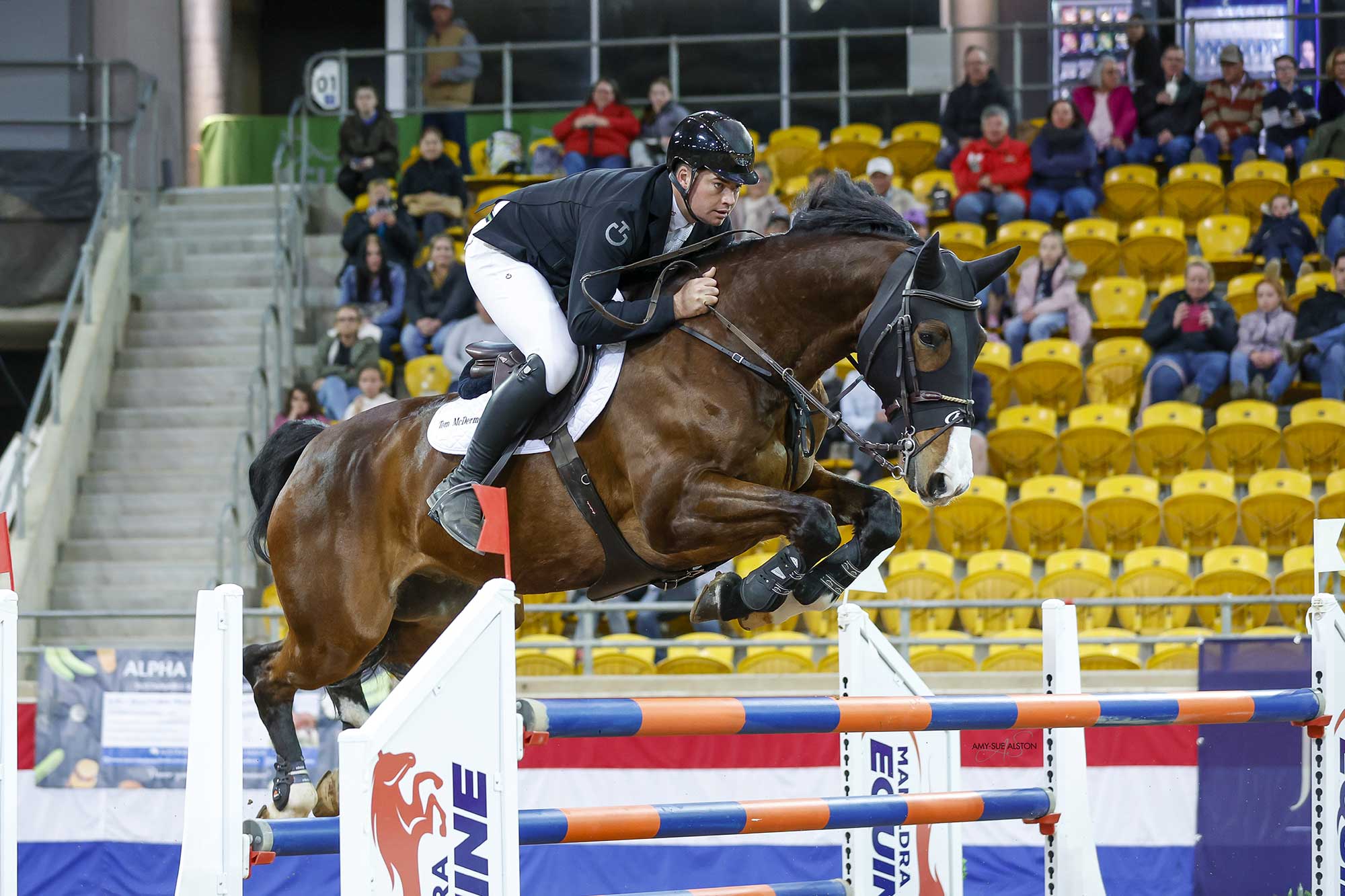 Above: Tom McDermott and Cooley Gangster. Photo Credit
Amy-Sue Alston Photography.
Next out were Olivia Hamood and Knock Out 111, but a pair of rails down saw them to a total of 12, putting paid to their chances. James Mooney and his lovely grey mare KPH Cavatina were next out. They took a single rail mid-round to also finish on eight, but with a time around five seconds slower than Tom, they had to settle for fifth place for the time being.
Jennifer Wood and her Cassiago gelding, Ipod, making his World Cup Qualifier debut came and went, adding twelve faults to their first round four, finishing on 16.
The second last combination out were the in-form Aaron Hadlow and Vahlinvader. A pair of rails at consecutive fences mid-round put them out of contention for the win, seeing them have to settle for ninth place when the dust had settled.
Now there was just one combination left. Maddy knew exactly what she and her mare Camie Z needed to do. Carrying zero penalties into the second round and with the current leader sitting on eight faults, many in the crowd would have thought that the win was hers. But it was not to be, highlighting the wonderful uncertainty of Jumping.
Taking a rail at the second fence, a hush came over the large crowd. When another rail went down at the fourth fence, the crowd went silent as they watched on perhaps a little disbelievingly. They were now on eight faults. Another rail down would slot them a long way down from the top of the leaderboard, after being at the top just a few seconds ago. Fortunately for them, that was the last rail to fall. Finishing on eight, it now came down to time, but their time of 54.40 was about four seconds off the pace leaving Tom and Cooley Gangster to take the win.
It was a wonderful close competition. The top seven placed combinations all finished on a total of eight faults, with just a touch over five seconds separating the winners from Mattea Davidson and Checkamour D in seventh place.
The final podium placings were Tom McDermott and Cooley Gangster first, Stuart Jenkins and Fairview Alicana second and repeating their third placing at last week's Waratah World Cup, were Billy Raymont and Caprino.
It was exhilarating jumping. As with any class where the winner is not known until the last combination on course attempts to clear the last fence, the tension was immense and the air could have been cut with the proverbial knife.
Unfortunately, there will be an extended wait until the series resumes. With the cancellation of both the Adelaide Royal and Melbourne Royal Legs of the series, the second last Leg is now scheduled for the Elms World Cup show at Sale in late November, before the season wraps-up at the Sydney Summer Classic in December. We can hardly wait.
The top 12 placings in the Tamworth World Cup Qualifier are listed below:
CLASS 15: CARMYLE VETERINARY SERVICES WORLD CUP QUALIFIER: CSI1*-W
| | | |
| --- | --- | --- |
| PLACE | RIDER | HORSE |
| 1st | Tom McDermott | Cooley Gangster |
| 2nd | Stuart Jenkins | Fairview Alicana |
| 3rd | Billy Raymont | Caprino |
| 4th | Mattea Davidson | Jaybee Vigilante |
| 5th | Madeline Sinderberry | Camie Z |
| 6th | James Mooney | KPH Cavatina |
| 7th | Mattea Davidson | Checkamour D |
| 8th | Olivia Hamood | Knock Out 111 |
| 9th | Aaron Hadlow | Vahlinvader |
| 10th | Jennifer Wood | Ipod |
| 11th | Sam Whale | Fleur DeLacour |
| 12th | Billy Raymont | Dakardo |
Results sourced from global entries online.
View Comments