Thoroughbred Sports Horse Association (TSHA) initiative is a winner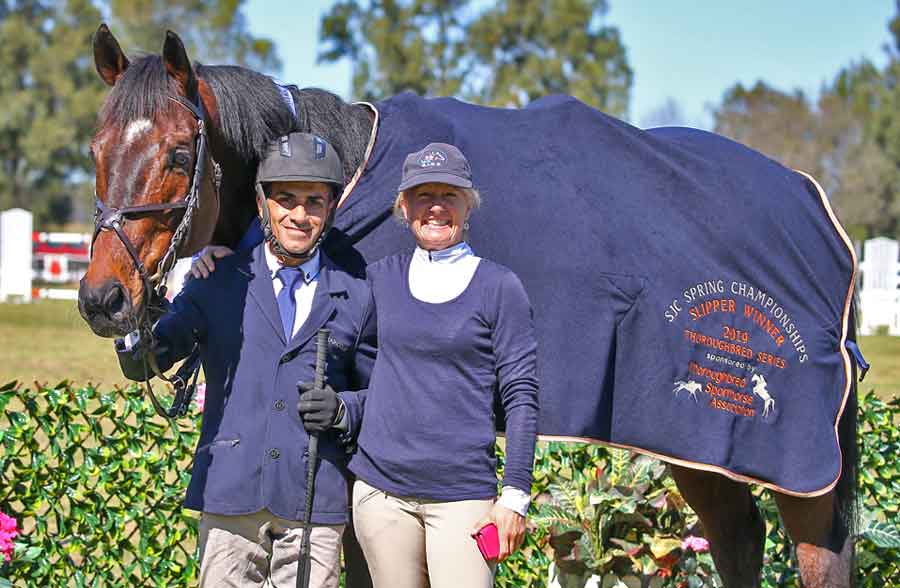 Jenny Sheppard
Keen observers of the jumping scene in Australia would have noticed an additional range of classes that seemed to spring up from nowhere during 2019 at jumping shows around the country. The Thoroughbred Sports Horse Association (TSHA) was behind the new initiative which sought to provide dedicated competition for thoroughbreds, and in particular, off-the-track (OTT) retired racehorses. This increased focus on thoroughbreds has facilitated the entry of many newcomers to jumping, many of which may not have been able to get involved, if it wasn't for dedicated TSHA classes. In recent years, we have also seen, through the 2018 and 2019 seasons of the television program Jump Off, an increased emphasis on the productive utilisation of retired thoroughbred racehorses, specifically, on using them as competitive jumping horses.
TSHA's main objective is to work with show organisers to create dedicated thoroughbred classes and to secure funding from the Racing Industry for prize money for those classes, thereby creating a market and a competition destination for off-the-track horses. A sport horse can have a competition life (depending on soundness) of 15 years. This is why the TSHA is in for the long haul, aiming to have on-going competitions in each state of Australia focusing on both city and regional competitions for the foreseeable future. TSHA competitions will fill the gap between racing and retirement.
Above is an image of Jeff Penza on Stormaise aka Eli Lamar who won the 90cm Slipper Class at SSJC Spring Championships 2019. Bringing the racing and sport horse worlds closer together and creating a cross pollination of resources through great people and horses is one of the aims of the TSHA.
The driving force behind the TSHA is Krissy Harris, who has been riding for 38 years, and professionally training horses for film, television and the sport of showjumping for the last 30 years. Krissy has represented Australia as a showjumping rider at the World Cup Final in 1997, and again at the World Championships in 1998 on the thoroughbred Mr Popeye. Krissy is just at home promoting and producing the shows as she is riding in them. We caught up with Krissy to hear in her own words more about this brilliant initiative.
Advertisement


How long has the Thoroughbred Sports Horse Association (TSHA) been in operation and what was the driving force for its development? We kicked off in December 2018 with 3 test classes at the Summer Classic at SIEC on a Wednesday.  We had 32 entries with no advertising – and we knew it would work.  We then got Global Entries on board to organise the back end of the licence fees and show entries and truly kicked off with AQUIS Champions Tour in April/May 2019 and we haven't looked back.
How successful has the program been so far? To date we have 475 horses with competitions licences and have held classes in rural, regional and metropolitan areas in NSW, QLD, WA. Obviously COVID-19 has affected our growth at this time.
How many horses have been included in the program and how many of these are involved in Jumping?  475 individual licences have been purchased – and those horses have competed in many different classes – we have run over 90  classes and horses have jumped over 1,000 rounds.  We were excited to kick off our hacking/show horse classes at Hawkesbury Agricultural Show in May this year – but unfortunately Corona got in the way.
We've seen dedicated Thoroughbred classes at many jumping shows around the country over the past 12 months. How receptive have show organisers been to the inclusion of these classes? The show organisers are loving it.  We fit into their existing program with a TSHA section of appropriate classes – and we organise the prize money, ribbons and trophy rugs.  TSHA  do all the checking of the  thoroughbred entries  to make it as easy as possible for the show organisers.  Lots of people in rural areas have thoroughbreds – and the show societies are loving giving the locals who may not have the budget for purpose bred horses a chance to win.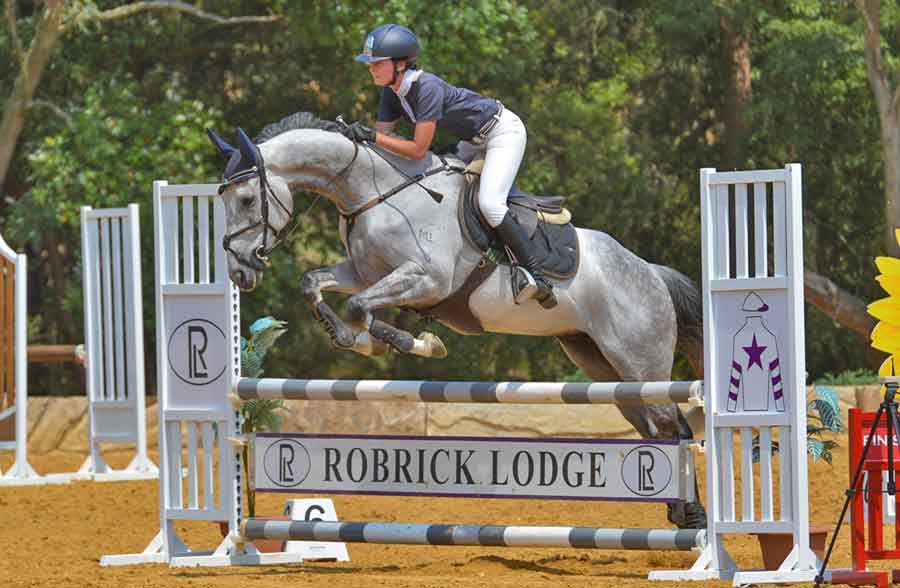 Above: Greg and Jodie White from Robrick Lodge have been amazing supporters of the TSHA from the outset and really got behind us by offering to sponsor the Tamworth World Cup show for 3 years.
What makes thoroughbreds so suited to jumping? They have great hearts and good athletic ability and all of them that come off the track can go forward!
What sort of re-training program do ex-racehorses require to prepare for a jumping career? That is such a hard question to answer – so long as you have a method that works for you – then use it.  On our web site we have on the 'insights' page tips on training thoroughbreds from Rod Brown, Michelle & Peter McMahon and Chris Chugg.  I should probably put my bit up there as well. How I used to do it was to get them off the track – lunge them over a jump – when that was going okay and they had half an idea of jumping – then I'd get on and ride them on the same circle.  As soon as I could go walk, trot and canter – I would get them jumping over a small course and hopefully take them to a small jump club.  If they looked like they had talent and a trainable brain – then I would go back and do the time consuming education side of things.  I always thought that you needed to get them out as soon as possible so you didn't waste 6 months getting them perfect on the flat to find out that they hated jumping at shows.
Advertisement


What type of racehorse makes the best jumpers?  I used to think stayers were the best before I got Ab Initio who still holds the record for the 1,000m at Hawkesbury Race Course and was a terrific sprinter.  Any horse who wants to jump is a good horse!!
What role has the recent seasons of the television show "Jump Off" played in the growth of the TSHA? "Jump Off" has been great to create awareness for the public.  They are a user pays system where they have big entry fees on qualifiers to get to a televised final.  We are totally different in that we have many competitions in regional and rural areas and have given away in excess of $ 100,600 in prize money, trophy rugs  ribbons to competitors in 90 classes.  We work extremely well together as we both have a common aim to get the thoroughbred back on the world stage of horse competition.
Are there any current stars of the jumping scene in Australia that are ex-racehorses? Michelle and Peter McMahon have KS Wisdom is looking gorgeous as a young horse.  There is Laurel Glen Lucky Time who is competing World Cups with Nelson Smyth and I hope that I have a couple in the wings as well.  Jazmin Ritter's Blue Banjo aka Blue Flame is another really nice horse and Sausilito with Sammy Moffatt won the QLD Country 1.30m open championships last year.  Hopefully there are going to be more of them if we can get the momentum of our classes going.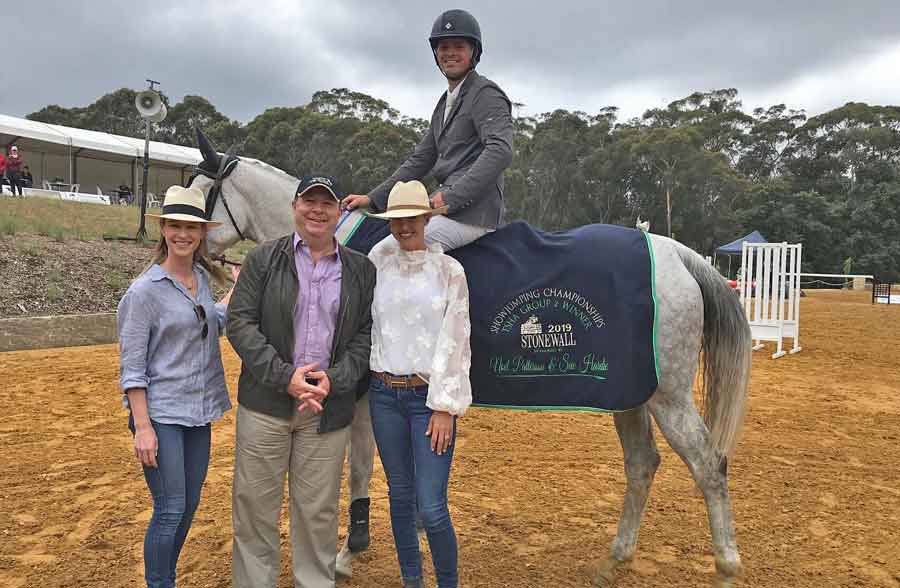 Nelson Smyth and 'Raise an Angel' at Stonewall Equestrian. 'Raise an Angel' is owned by Jess Bott from Gai Waterhouse/Adrian Bott Racing and Jess (pictured right) has lessons with Nelson. Noel Patterson (pictured middle) is an owner at Waterhouse/Bott Racing and generously sponsored this class.
Where do you see the TSHA being in, say, five years from now? Between 1994 and 2006 we had 31 representatives in showjumping at the World Cup Final, WEG and Olympics – of those 31 horses – 18 were thoroughbreds and 13 were other breeds.  I want to get back to that level of thoroughbred participation where we have thousands licenced as sport horses for showjumping, hacking/show horse/hunters, eventing and any other sport we can give the thoroughbreds a leg up into. We are starting to organise the Australian Thoroughbred Sport Horse Titles for 2021 and will hold this annual event each year. TSHA are in it for the long haul.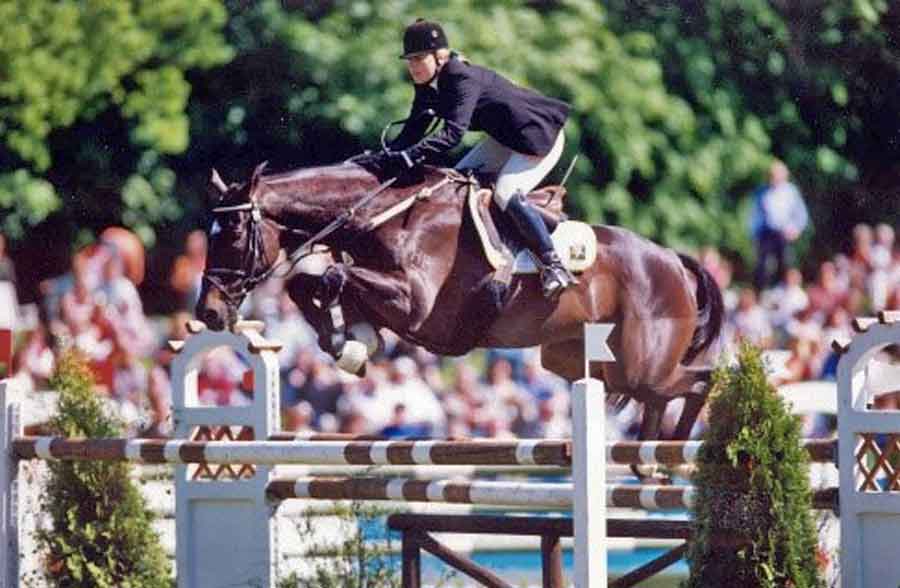 Krissy Harris and her wonderful thoroughbred 'Popeye' on their way to placing 35th in the World Cup Final in Göteborg, Sweden in 1997. 
What are the various ways that interested parties can get involved? We have a great web site www.thoroughbredsporthorse.com.au and we have our calendar on there.  Any spectators are welcome at any of the shows – and most of those are free entry – so anybody from the racing industry or other interest groups can see how happy and healthy the TSHA horses are in their 2nd career.  We also have sponsorship opportunities from small amounts upwards if people want to help either with a corporate advertising/sponsorship package or as an individual.  Most of the help we get comes from good hearted horse loving people and we are eternally grateful to have nice people and some fabulous horses in our lives.
View Comments