Tom McDermott thrills crowd with Gatton World Cup win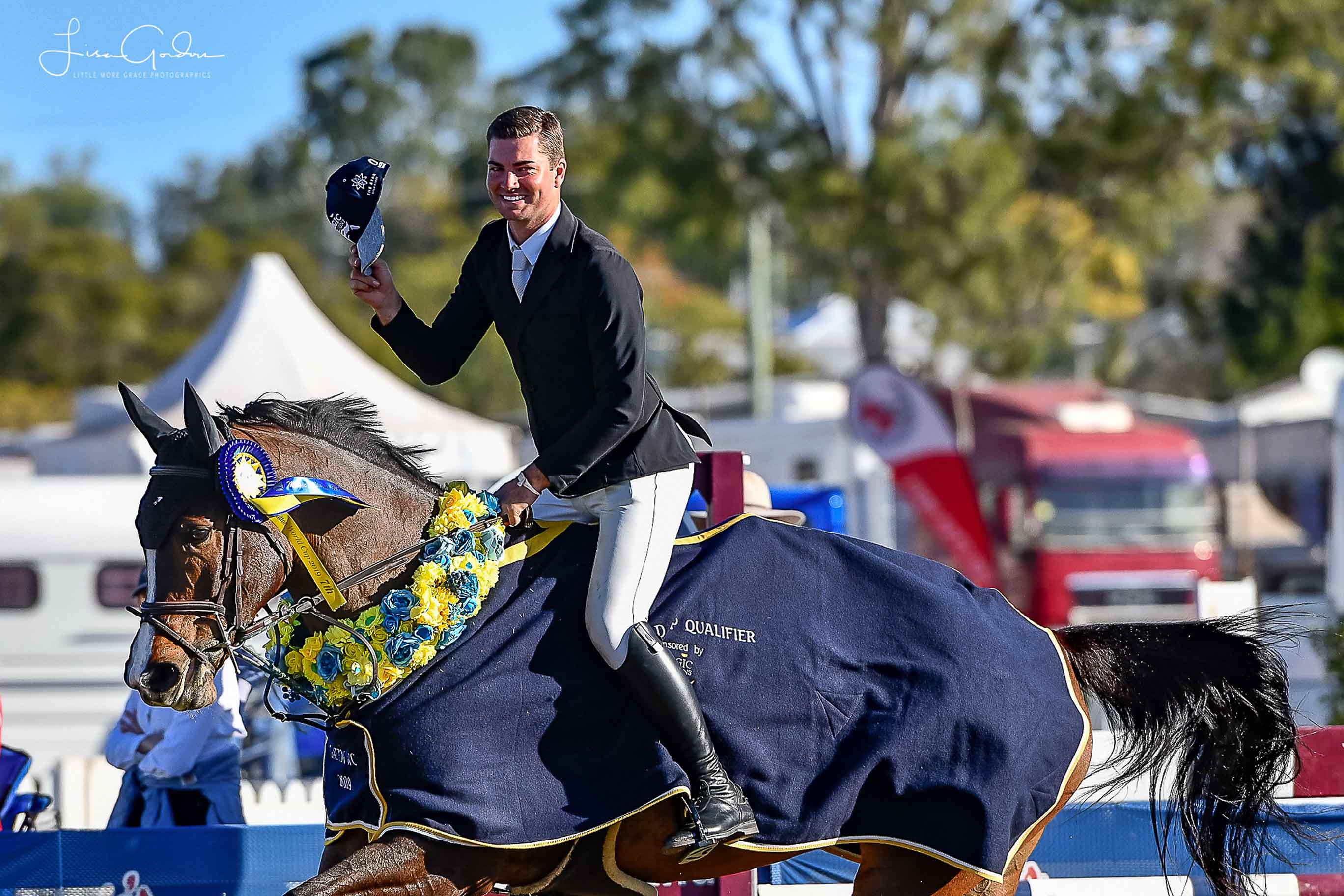 Lisa Gordon
A wonderfully warm Queensland Winter's day provided perfect conditions for the second round of the Australian World Cup Qualifying Series for 2019/20, held this afternoon in Gatton QLD. Sponsored by Magic Millions, there was excitement in the air right from the start of today's event. Not only were valuable World Cup points on offer for the 32 starting combinations, but clear first rounds would help riders in their quest to meet the Minimum Eligibility Requirements (MER) to be considered for a place on the Australian Jumping Team for Tokyo 2020.
Advertisement


We didn't have to wait long for the first clear round. Third combination out, Tom McDermott and Alpha Activity set the standard, completing the course in just 86.55 seconds. Nineteenth out was the five-time Australian Champion, Chris Chugg riding PSS Levilensky, who recorded the only other clear round in a slightly slower time than McDermott. This was a brave performance from Chugg who was carrying a couple of injuries from a fall yesterday. Both these riders are now half-way towards meeting their MER for Tokyo.
Following these two, there were a further 12 combinations who completed the course with just a single rail down. However, since the World Cup class conditions only allow 12 competitors to come back for the second round, the two slowest four-faulters had to miss out, so disappointing for our WEG combination of Jamie Kermond and Yandoo Oaks Constellation  World Cup debutantes, Jennifer Wood and Cocaine Ego Z.
The first combination out for Round Two was Gabrielle Kuna and Cera Cassiago. They completed a fantastic clear round to finish on a total of four faults, which set the benchmark for the other eleven combinations to try and beat. It was going to be a long nervous wait for Kuna and her supporters. Next were Katie Laurie and Cera Caruso who took two rails to fall out of contention. Gabrielle Kuna and Flaire were the next to go. As Laurie did before them, they took two rails in Round Two to finish on a total of 12 penalties.
The fourth combination out was Merrick Ubank and Alantinus. They went clear to match the performance of Kuna and Cassiago, however, were just over a second slower, so had to settle in second place for the time being. The following combination, Olivia Hamood and Jane Fonda DVD took two rails to dash their chance of victory. Next out were Matthew Afford and Kaluna Salute who went clear but not as fast as the previous two Round Two clears and therefore had to settle into third place for the time being.
Advertisement


So at the half way point of Round Two, there had been three clear rounds and three eight-penalty rounds. Gabrielle Kuna and Cera Cassiago who had set the pace by going first, had seen five combinations come and go and were still clinging to the lead.
James Harvey and Tyrone VDL were the next combination out, however they took a rail to settle into fourth place. Last year's series winners Aaron Hadlow and Vahlinvader also took a single rail, however, in a time that was faster than any previous combination in Round Two.
Next out was the Round One leader Tom McDermott and Alpha Activity. McDermott was not able to consolidate his lead due to them taking two rails. Now there were only three combinations to come and still Kuna and Cera Cassiago clung to the lead. Last week's Caboolture World Cup winner Clay Simmonds (who is heading off tomorrow to spend some time with Rowan Willis in Florida) and Oaks Castanza were third last to go. A single rail in Round Two, added to the four penalties from Round One left them on eight, although the time of 55.47 seconds would have been fast enough to take the lead.
The penultimate combination of Chris Chugg and PSS Levilensky entered the arena. With a clear round enough to take the lead, Chugg rode a steady round, however a single rail meant that he was back on equal penalty terms with a number of combinations and his slower time of 65.06 meant that he finished out of the placings.
So it came down to the last combination. Could Tom McDermott and Elegance De La Charmille go clear and beat Kuna's time, or would the long wait by Kuna pay-off with victory. She had seen ten competitors come and go and was still clinging to her lead.
As it turned out, Tom McDermott and Elegance De La Charmille did exactly what was required. They rode a magnificent clear round in 55.75 seconds, some 3.5 seconds faster than Kuna and took the win with an excellent display of jumping.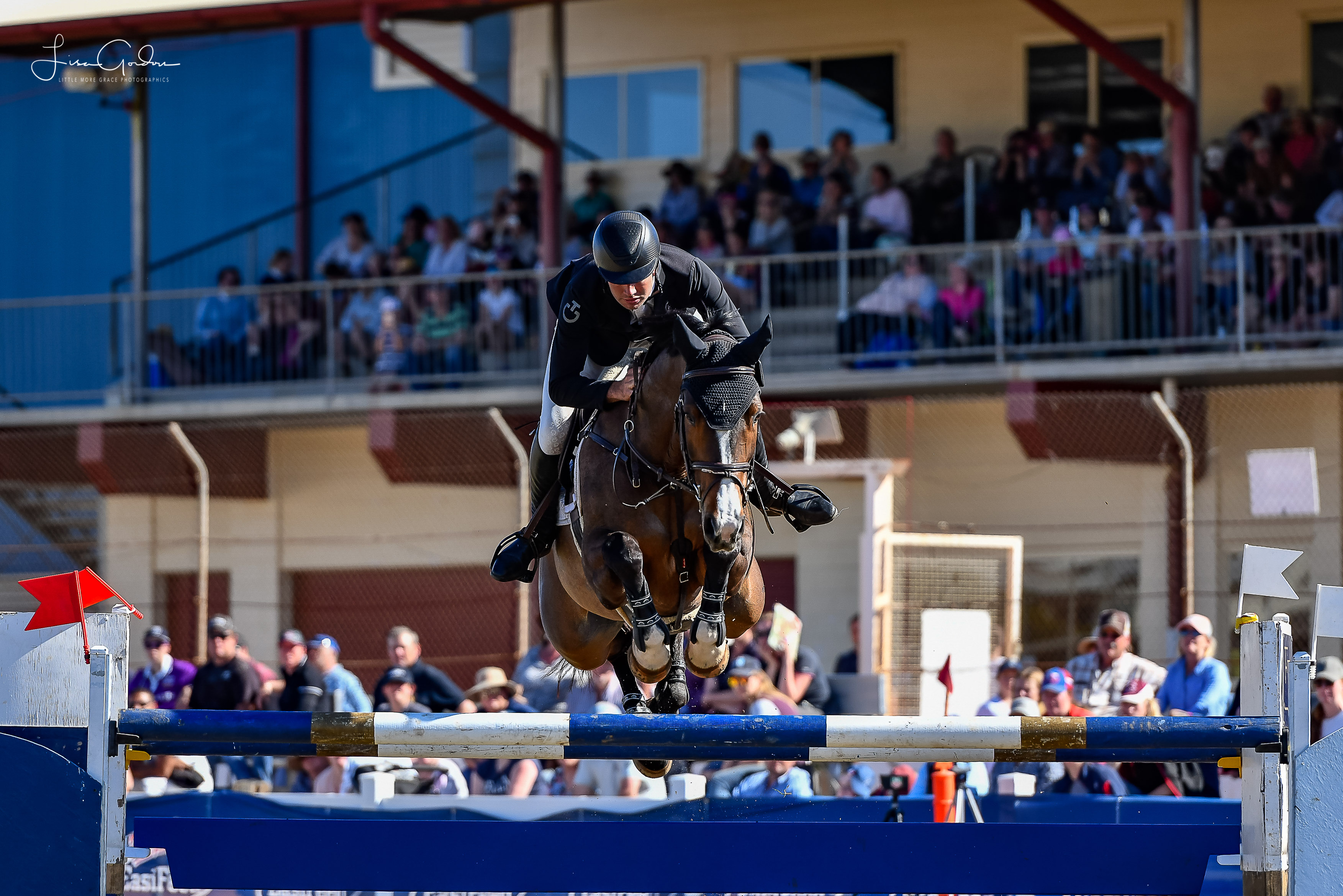 Tom McDermott and Elegance De La Charmille. Photo credit Lisa Gordon
We caught up with Tom McDermott after the class who said "I'm really pleased with Charmille today, she jumped incredibly, it was a tough track and the pressure was put on in the jump off, especially being last to go and I couldn't be any happier with the end result. Now back to Sydney and onto Waratah showjumping!"
However, while Gabrielle Kuna did not hang on for the win, she can take some consolation from the fact that Elegance De La Charmille is not McDermott's nominated horse for the World Cup competition, so she will take maximum points from this World Cup round.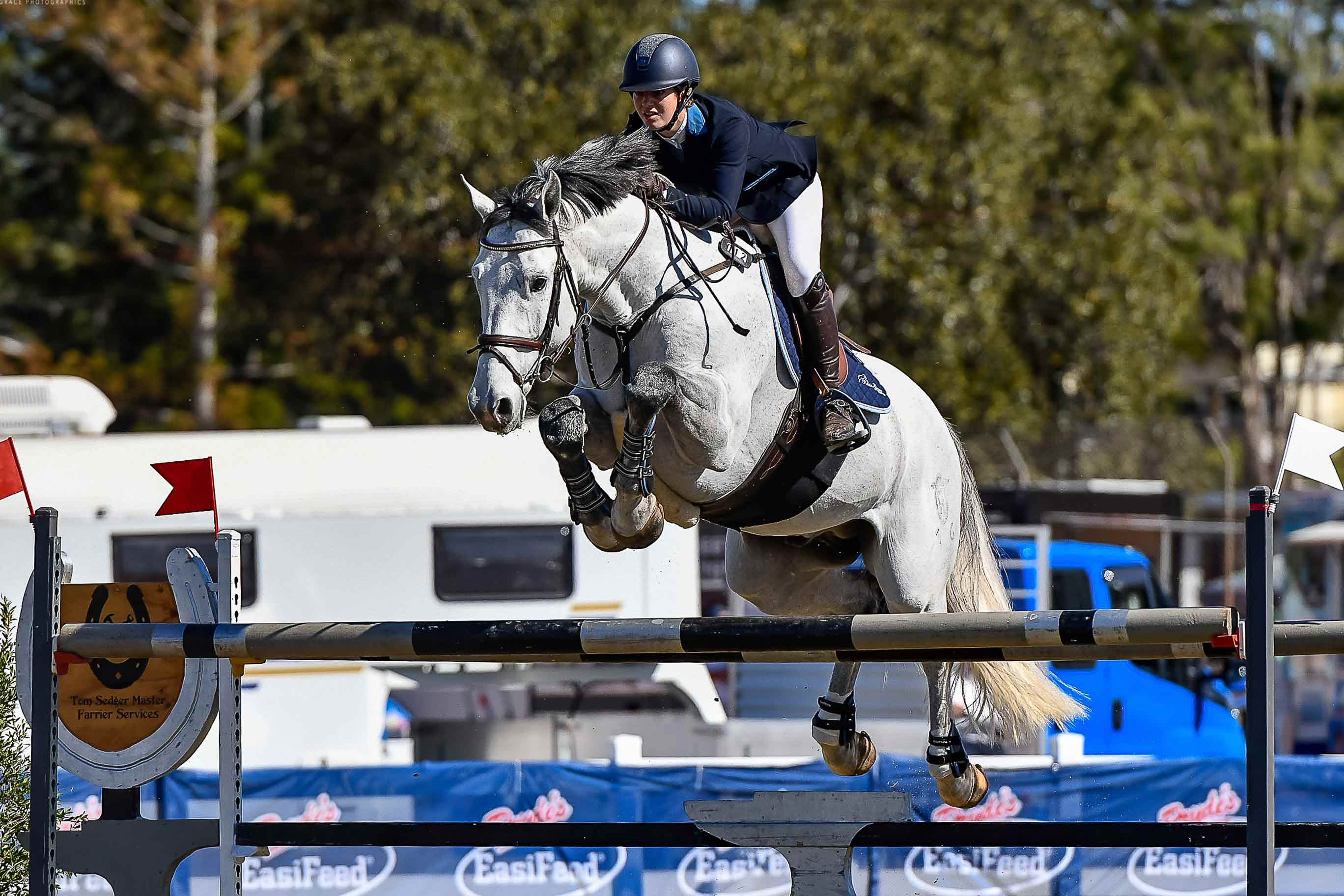 Gabrielle Kuna and Cera Cassiago. Photo credit Lisa Gordon
The full placings from this class are listed below:
| | | |
| --- | --- | --- |
| PLACE | RIDER | HORSE |
| 1st | Tom McDermott | Elegance De La Charmille |
| 2nd | Gabrielle Kuna | Cera Cassiago |
| 3rd | Merrick Ubank | Alantinus |
| 4th | Matthew Afford | Kaluna Salute |
| 5th | Chris Chugg | PSS Levilensky |
| 6th | Clay Simmonds | Oaks Castanza |
| 7th | Tom McDermott | Alpha Activity |
| 8th | Aaron Hadlow | Vahlinvader |
| 9th | James Harvey | Tyrone VDL |
| 10th | Katie Laurie | Cera Caruso |
| 11th | Gabrielle Kuna | Flaire |
| 12th | Olivia Hamood | Jane Fonda DVD |
We look forward to the next World Cup round at Waratah Showjumping at SIEC in three weeks time.
Advertisement

View Comments