Willis, Wellings and Baccus – A Story of Friendship and Hope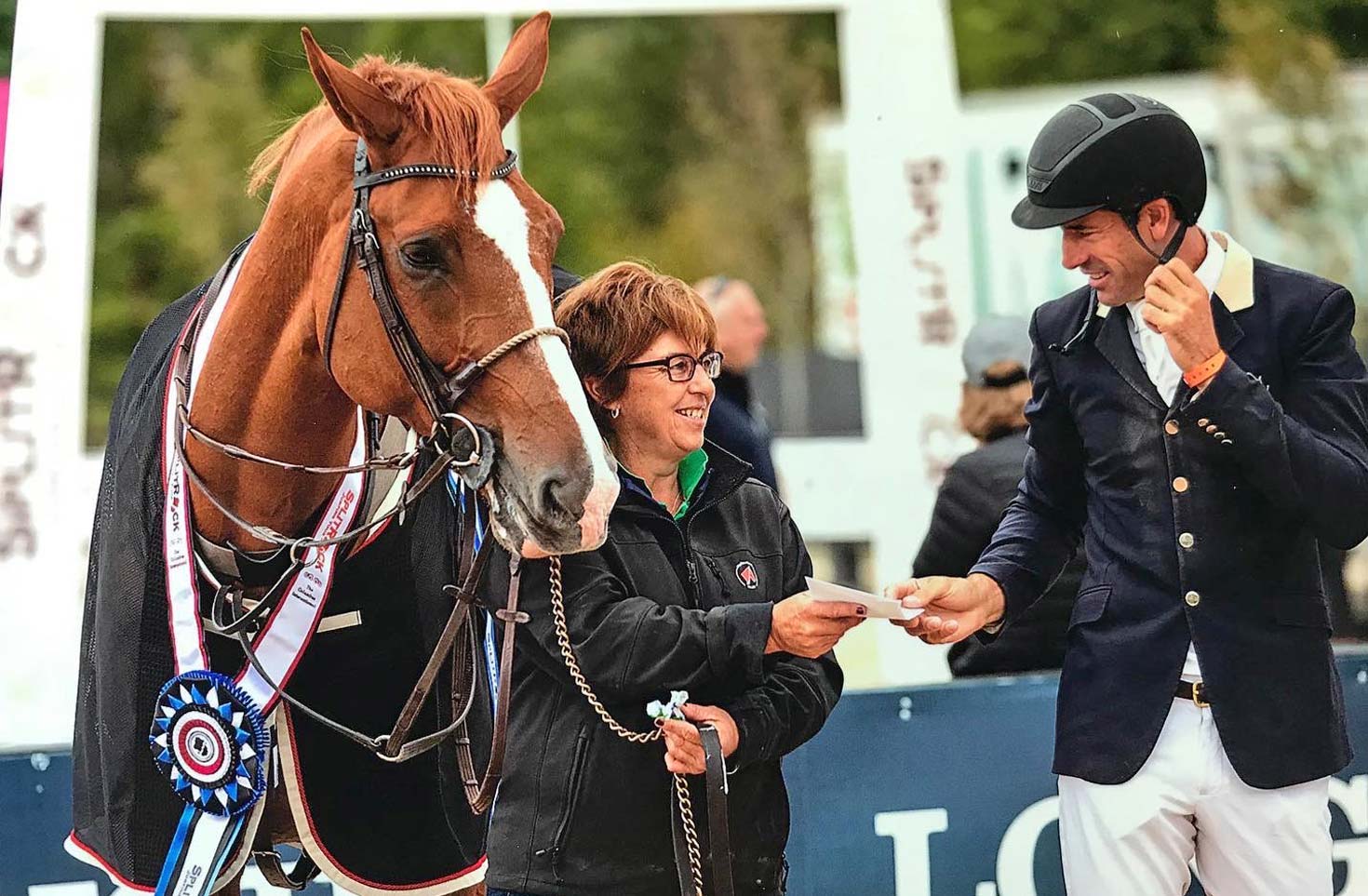 Karen Wellings supplied
This has been a road trip to remember for Karen Wellings, owner and breeder of Baccus – a 12 year old chestnut gelding by Coverter out of Odessa De Monselet – as she joined great., long-time friend Rowan Willis and his team of horses on the jumping circuit of the US and Canada this year.
Wellings, originally from Guernsey in the Channel Islands, started riding when she was 5 years old and went through Pony Club where she realised that she had a love for jumping. She followed her passion and moved to England to train with Marion Moulds, owner and rider of  Stroller (a story in it's own right, as the only pony (14.1 hh) to ever compete at the Olympics in jumping (Mexico 1968) following an incredible win in the 1967 Hickstead Derby).
Advertisement

As Karen progressed from ponies to horses she moved from Surrey to ride with the late Cyril Light (producer of a number of top showjumpers, including Darco and Don VHP Z) from the Brendon Stud, West Sussex and continued to ride there for 10 years.
In 1991 Karen met an Australian and moved to Australia to run a performance horse breeding business from their property on the South Coast of NSW. In 2003 Karen and her husband Chris moved back to Sussex in the UK and continued to breed and produce horses. They met Rowan 17 years ago through Jamie and Sue Coman – and that was the beginning of a long friendship.
Three years ago Karen was diagnosed with Ovarian Cancer which thankfully she is now clear of.  Whilst Karen was going through treatment for the cancer, she and her husband made the decision to keep Baccus to give Karen something to look forward to in the future. Indeed, as soon as she was well enough to do so, Karen started riding again and taking Baccus out to local shows in the UK.
It was clear that this was a special horse and a number of people tried to get the ride on him, however it was Rowan whom she trusted as a friend and a horseman to take Baccus further. Early this year, at Willis' suggestion, the pair set off for Okala, Florida to join him on the show circuit, attending shows across the US and Canada.
This trip was about business, but it was also about friendship and celebration of life, and it was clear that this trip meant a lot to both of them. In the skilful and experienced hands of Rowan, Baccus improved at each show, with placing in Ocala, Spruce Meadows, California and Vancouver, and in early October we saw what Karen describes as the most memorable moment of their trip, when Rowan and Baccus took a big win in the CSI3* at Split Rock Ohio. For Karen, watching Baccus take an easy win against many of the biggest names in the sport was "a testament to the hard work and consistency by Rowan over the year".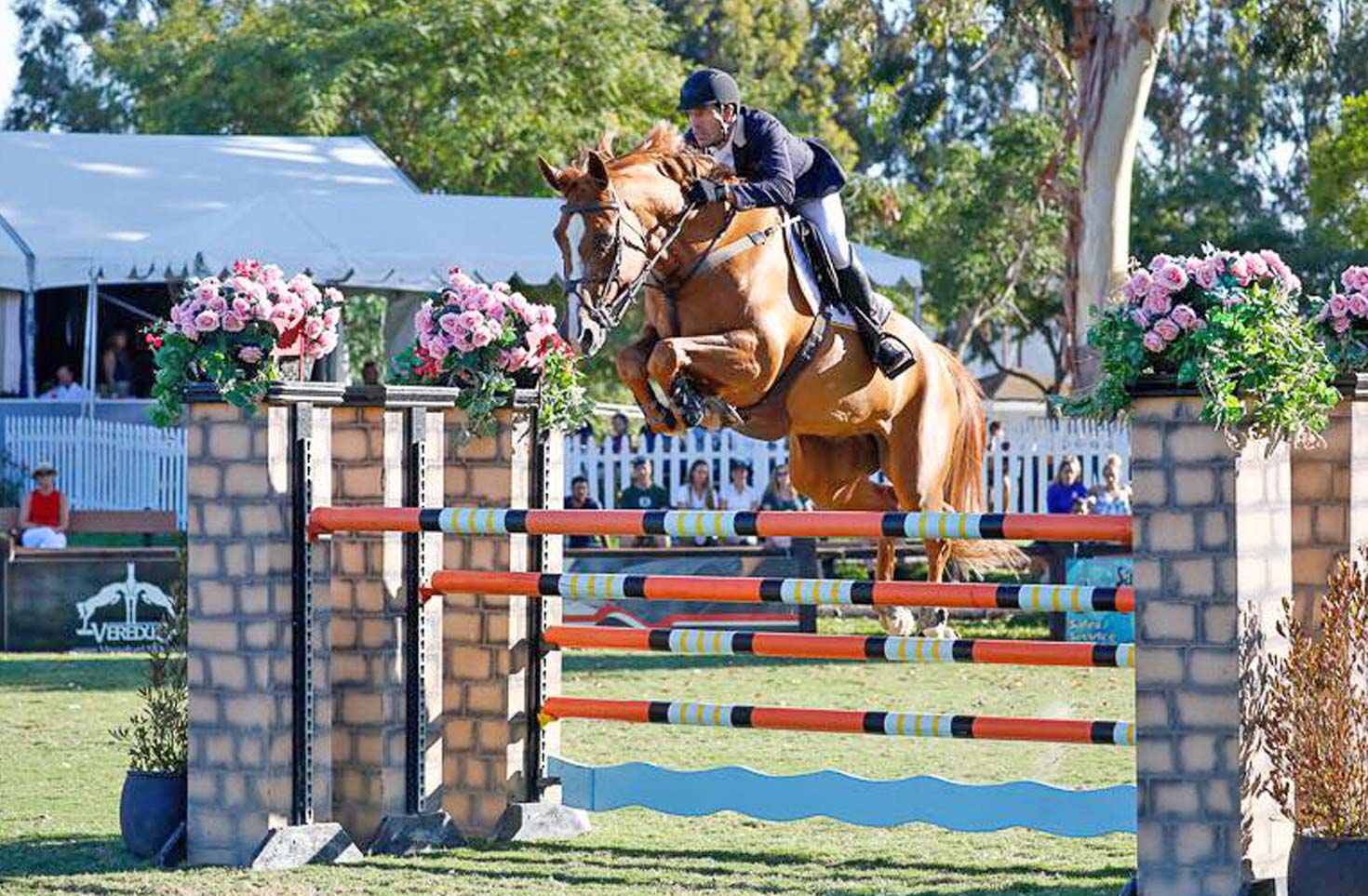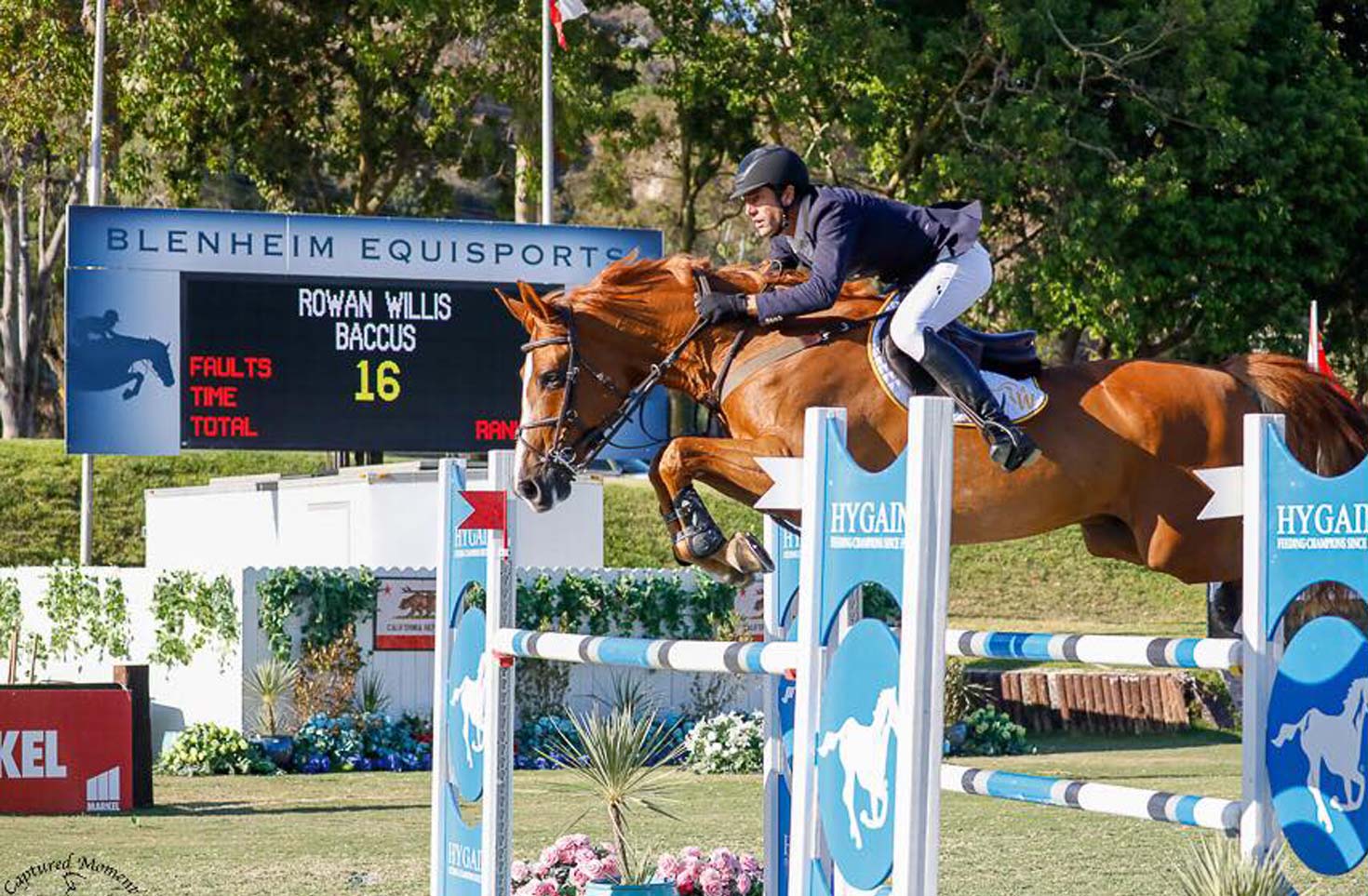 Willis and Baccus at Del Mar
Catching up with the pair as they are on their way to Tryon, we asked Rowan what it was that he enjoyed about travelling and riding with Karen and it was clear that the friendship between them has made this a very special time and that they both "still like to enjoy the sport as we did when we were younger. Many people have lost the enjoyment,  but for us, whilst it is still a serious business, we have fun and we love the horses".
Baccus, who Rowan describes as "a big, strong and powerful horse that has a soft side and has handled the big shows so well, with nothing phasing him" is sadly now up for sale as Karen and her husband are heading back to Australia. " It breaks my heart to sell him" says Karen,"but that is the business side of what we do."
Advertisement


Australian Jumping wish Karen a very safe trip back to Australia when the time comes, Rowan continued success on the circuit and a very special home for Baccus to allow him continue his journey.
Below are the FEI results for the partnership of Rowan and Baccus.
| | | | | | |
| --- | --- | --- | --- | --- | --- |
| Date | Show | Event | Competition | Obs. Height | Position |
| 17/08/2019 | Vancouver – Langley BC | CSI3* | Winning Round | 145 | 4 |
| 16/08/2019 | Vancouver – Langley BC | CSI3* | Table A | 150 | 20 |
| 03/08/2019 | Del Mar, Horse Park CA | CSI2* | Grand Prix Table A | 145 | 3 |
| 01/08/2019 | Del Mar, Horse Park CA | CSI2* | Table A | 145 | 10 |
| 27/07/2019 | Del Mar, Horse Park CA | CSI2* | Grand Prix Table A | 145 | 8 |
| 25/07/2019 | Del Mar, Horse Park CA | CSI2* | Table A | 145 | 4 |
| 24/07/2019 | Del Mar, Horse Park CA | CSI2* | Two Phases | 140 | 18 |
| 30/06/2019 | Calgary, Spruce Meadows AB | CSI5* | One Jump Off | 145 | 38 |
| 29/06/2019 | Calgary, Spruce Meadows AB | CSI5* | One Jump Off | 150 | 31 |
| 27/06/2019 | Calgary, Spruce Meadows AB | CSI5* | Two Phases | 145 | 40 |
| 15/06/2019 | Calgary, Spruce Meadows AB | CSI5* | One Round | 145 | 22 |
| 13/06/2019 | Calgary, Spruce Meadows AB | CSI5* | Two Phases | 145 | 6 |
| 09/03/2019 | Ocala, Live Oak Plantation FL | CSI3*-W | Table A | 150 | |
| 08/03/2019 | Ocala, Live Oak Plantation FL | CSI3*-W | Two Phases | 140 | 4 |
| 01/03/2019 | Wellington FL | CSIO4* | Table A | 145 | |
| 27/02/2019 | Wellington FL | CSIO4* | Table A | 145 | 28 |
| 15/02/2019 | Wellington FL – Deeridge Farm | CSIO5*-NC NAm | Table A | 140 | 21 |
| 14/02/2019 | Wellington FL – Deeridge Farm | CSIO5*-NC NAm | Table A | 145 | 28 |
View Comments