Summer Classic wraps up with a view to the future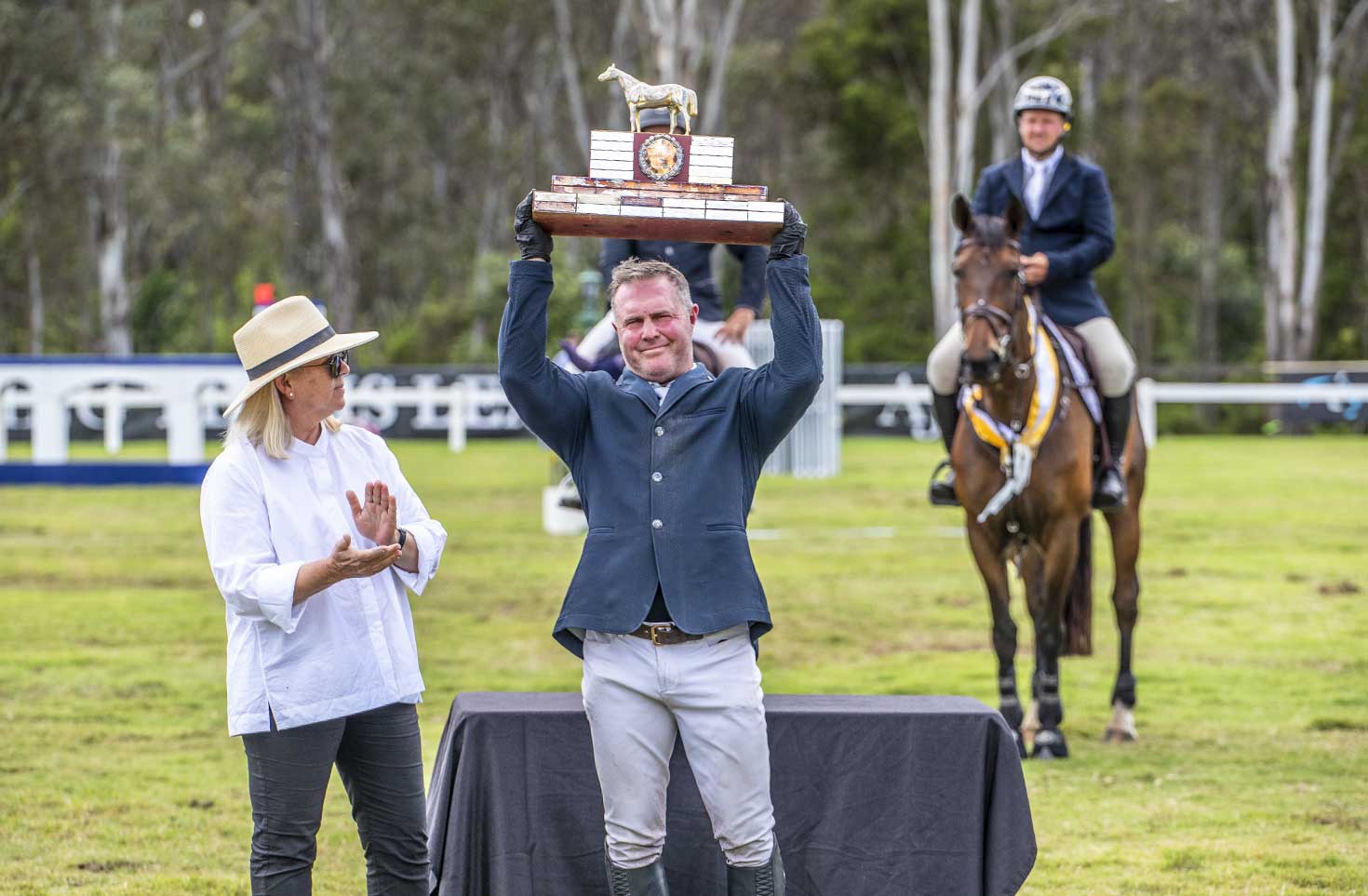 Australian Jumping
Above: Dion Williams with Futurity class sponsor Kerrie Winning.
Four days of wonderful jumping competition concluded yesterday on the fourth Day of the Chatham Park Summer Showjumping Classis at the Sydney International Equestian Centre. No double, the feature class was the long awaited second leg of the 2021 Australian Jumping Teams League (AJTL) which kept the crowd on the edge of their seats until the very past jump of the class was cleared. For the full story on how the AJTL unfolded, please click HERE.
Advertisement


The first class on the Chatham Park main arena was sponsored by Emcee Apparel and was over 1.25 for Junior Riders. Eight combinations went clear and were back for a jump-off which saw only three of them go clear again. The winners were Clemency Hughes and Nicolette, with almost two seconds to spare from Ella Silk and Redgum Conan in second. This place went to Katelyn Staples and KC Spotabug.
Next up was the Futurity class for horses 6, 7 and 8 years old, sponsored by the Winning Family. The win went to the experienced South Coast rider Deon Williams and Tulara Balous. Second were Victorian visitors, Brook Dobbin and Velvet Cate while James Paterson-Robinson and Connollys Karuba filled out the podium. It was great to see Dion take this win and on the podium he admitted there had been a long time between victories and he was thrilled to take this class and is very excited about his new mount Tulara Balou.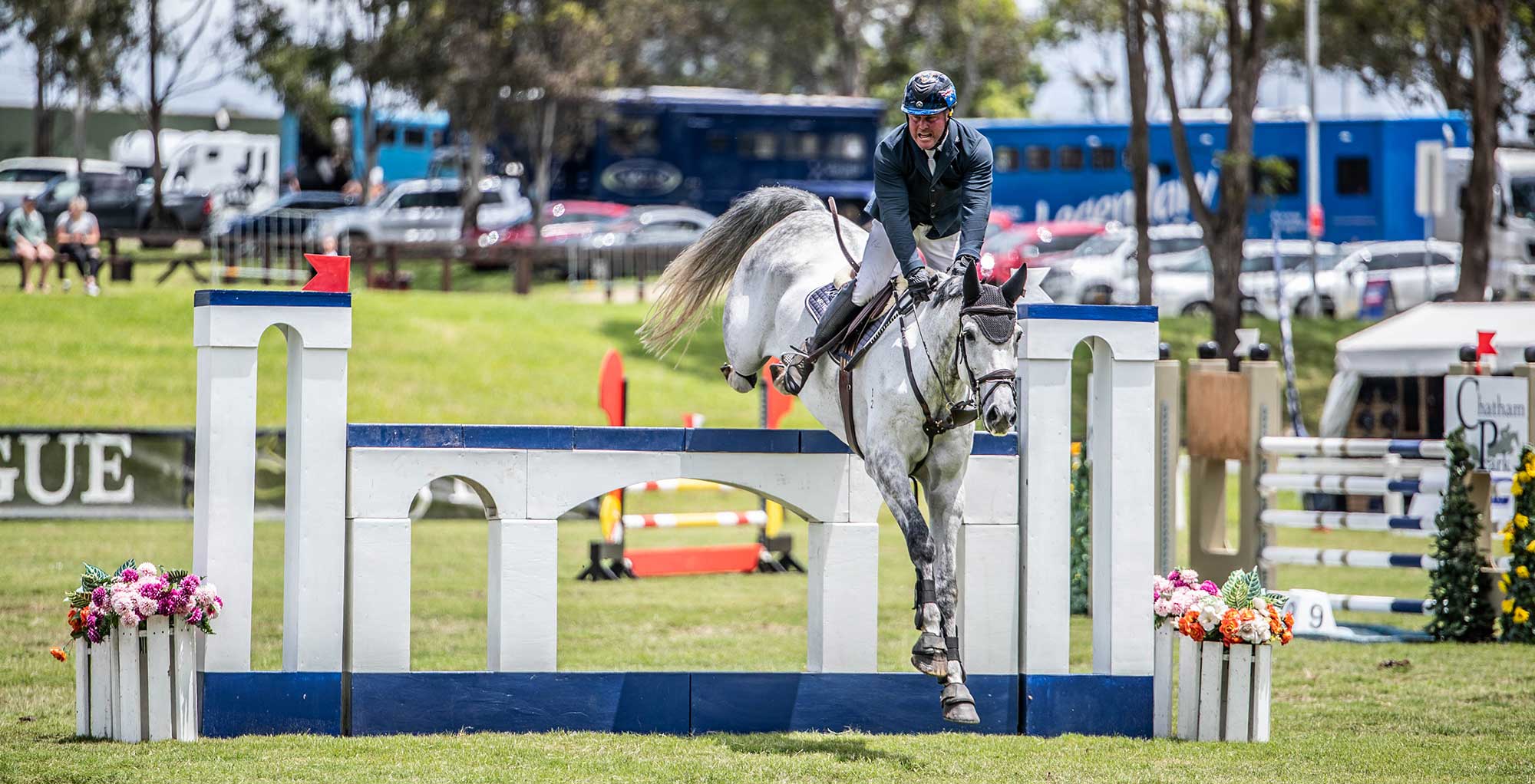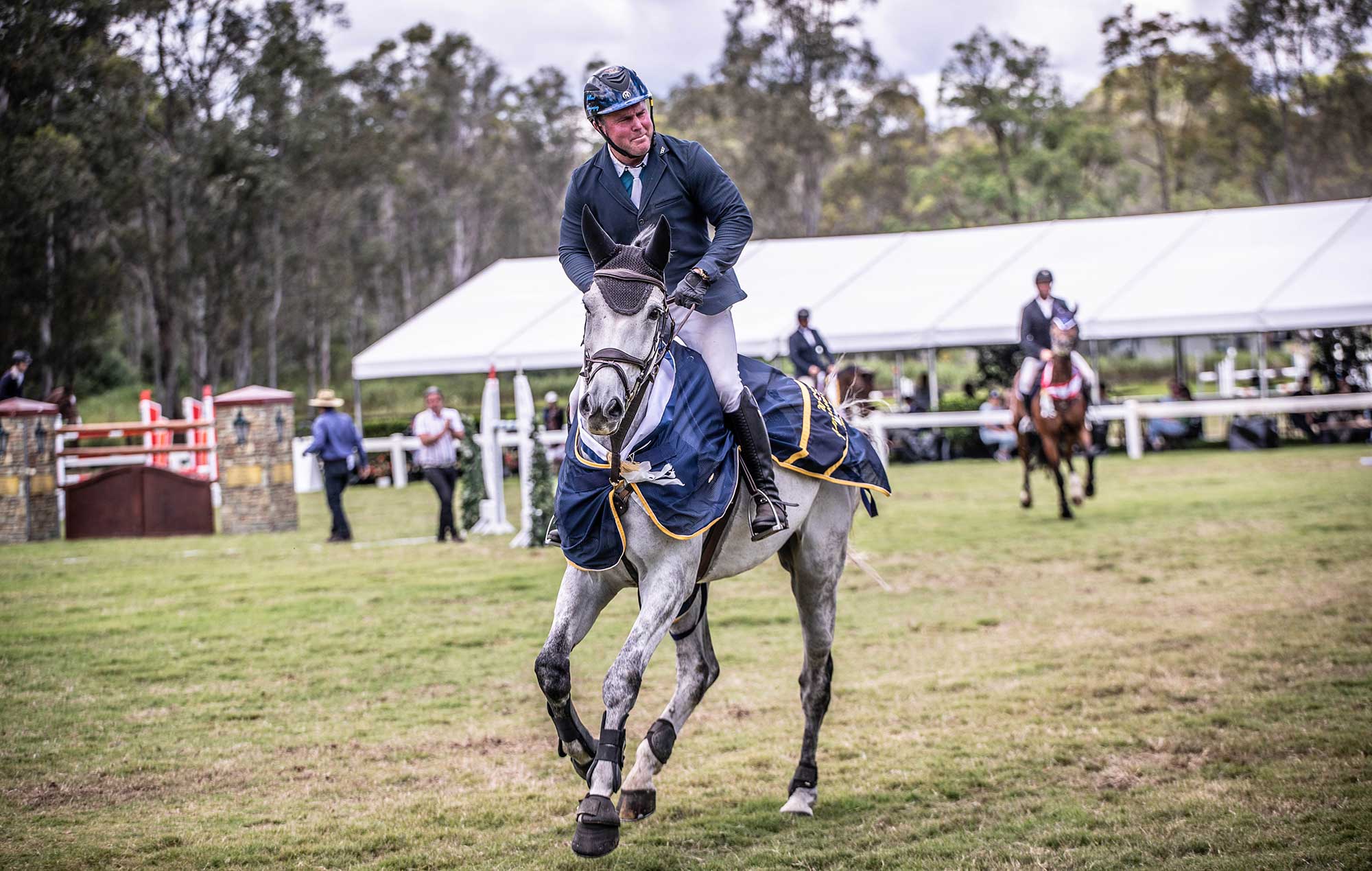 After the excitement of the AJTL settled down, the final class on the main arena was for the Amateurs. Sponsored by Redleaf lodge double clear went to Gaby Hermosa and Kaloona Virago, by a massive five second margin in the jump-off. Kelvin Blumson and Springen Matilda were second and Kylie Hardy and Night Sky Streaker Z were second and third, both also double clear, but split by about 1.5 seconds.
There were two classes on the ENSW second Arena, each subdivided into divisions. The 0.90m class was split three ways, with Jasmine Spira and Avenly Bundy winning the Open class, William Hodgekiss and Twins Grand Zulu taking out the thoroughbred division and Amy Thompson and Remembrance Day taking out the class for horses or riders in their first year of competition.
The rails were raised to 1.00m which saw Bella Barber and Valentino NZPH successful in the open division and William Hodgekiss and Twins Grand Zulu repeating their 0.90m win in the 1.00m thoroughbred division.
Despite the rain and storms on the first two days, the arenas held up remarkably well and there could be no doubt about the success of the show.
Congratulations to the winner and placegetters on the final day. The top six placings in all classes decided on the day are listed below.
CHATHAM PARK – ARENA 1
CLASS 20: EMCEE Apparel – Junior Rider – 1.25m
| | | |
| --- | --- | --- |
| PLACE | RIDER | HORSE |
| 1st | Clemency Hughes | Nicolette |
| 2nd | Ella Silk | Redgum Conan |
| 3rd | Katelyn Staples | KC Spotabug |
| 4th | Ashley Cutler | Kinnordy Rhena |
| 5th | Charlie Richardson | Mavrick |
| 6th | Aria Baker | That's Limo |
CLASS 21: Winning Group – Futurity (horses 6, 7 and 8-years-old) – 1.35m
| | | |
| --- | --- | --- |
| PLACE | RIDER | HORSE |
| 1st | Deon Williams | Tulara Balous |
| 2nd | Brook Dobbin | Velvet Cate |
| 3rd | James Paterson-Robinson | Connollys Karuba |
| 4th | Jamie Kermond | Yandoo Honolulu |
| 5th | Rod McQueen | Finch Farm Carlton |
| 6th | Andrew Inglis | Laracas |
CLASS 23: Redleaf Lodge – Amateur Riders – 1.20m
| | | |
| --- | --- | --- |
| PLACE | RIDER | HORSE |
| 1st | Gaby Herbosa | Kaloona Virago |
| 2nd | Kelvin Blumson | Springen Matilda |
| 3rd | Kylie Hardy | Night Sky Streaker Z |
| 4th | Natalie De Souza | Romley Corsair |
| 5th | Alicia Daly | Bellhaven Asha |
| 6th | Jim Scobie | Boomerang Cafe |
ENSW – ARENA 2
CLASS 24A: OPEN – 0.90m
| | | |
| --- | --- | --- |
| PLACE | RIDER | HORSE |
| 1st | Jasmine Spira | Avenly Bundy |
| 2nd | Hannah Luffman | APH Bubbles |
| 3rd | Dale Frew | APH Solace |
| 4th | Coralie Christie | Volt |
| 5th | Aanicka Grant | Yalambi's Cambridge |
| 6th | Jasmine Spira | Quin Marvel |
CLASS 24B: Thoroughbred Slipper Class – 0.90m
| | | |
| --- | --- | --- |
| PLACE | RIDER | HORSE |
| 1st | William Hodgekiss | Twins Grand Zulu |
| 2nd | Lily-Rose Baxter | Foxhill Cruise |
| 3rd | Andrew Ellis | Boom Mountain |
| 4th | Jack Haynes | Daybreak Del Pietro |
| 5th | Lori James | Balboa |
| 6th | Carissa Holmes | Abu |
CLASS 24C: Restricted (First year competitors) – 0.90m
| | | |
| --- | --- | --- |
| PLACE | RIDER | HORSE |
| 1st | Amy Thomson | Remembrance Day |
| 2nd | Alexandra Inglis | William |
| 3rd | Savannah Steel | Crestfields Waiting Game |
| 4th | Charlie Anne Smith | Nugget |
| 5th | Jess Brown | Oaks Cascade |
| 6th | Izabella Stone | Bellhaven Calisco |
CLASS 25A: OPEN – 1.00m
| | | |
| --- | --- | --- |
| PLACE | RIDER | HORSE |
| 1st | Bella Barber | Valentino NZPH |
| 2nd | Alexandra Machlin | Kaewing Maximus |
| 3rd | Laura Munt | Bella Blu |
| 4th | Alexandra Inglis | William |
| 5th | Alexandra Inglis | Diamond B Babybel |
| 6th | James Paterson-Robinson | Tiger Lilly |
CLASS 25B: Thoroughbred Group 3 – 1.00m
| | | |
| --- | --- | --- |
| PLACE | RIDER | HORSE |
| 1st | William Hodgekiss | Twins Grand Zulu |
| 2nd | Lily-Rose Baxter | Foxhill Cruise |
| 3rd | Kenny Graham | Maverick 3MC |
| 4th | Vicki Roycroft | The Dood |
| 5th | Lori James | Balboa |
| 6th | Rachel Higgins | De Lago Resort |
Results sourced from globalentriesonline.com.au
View Comments