Sydney Summer Classic – Day Three wrap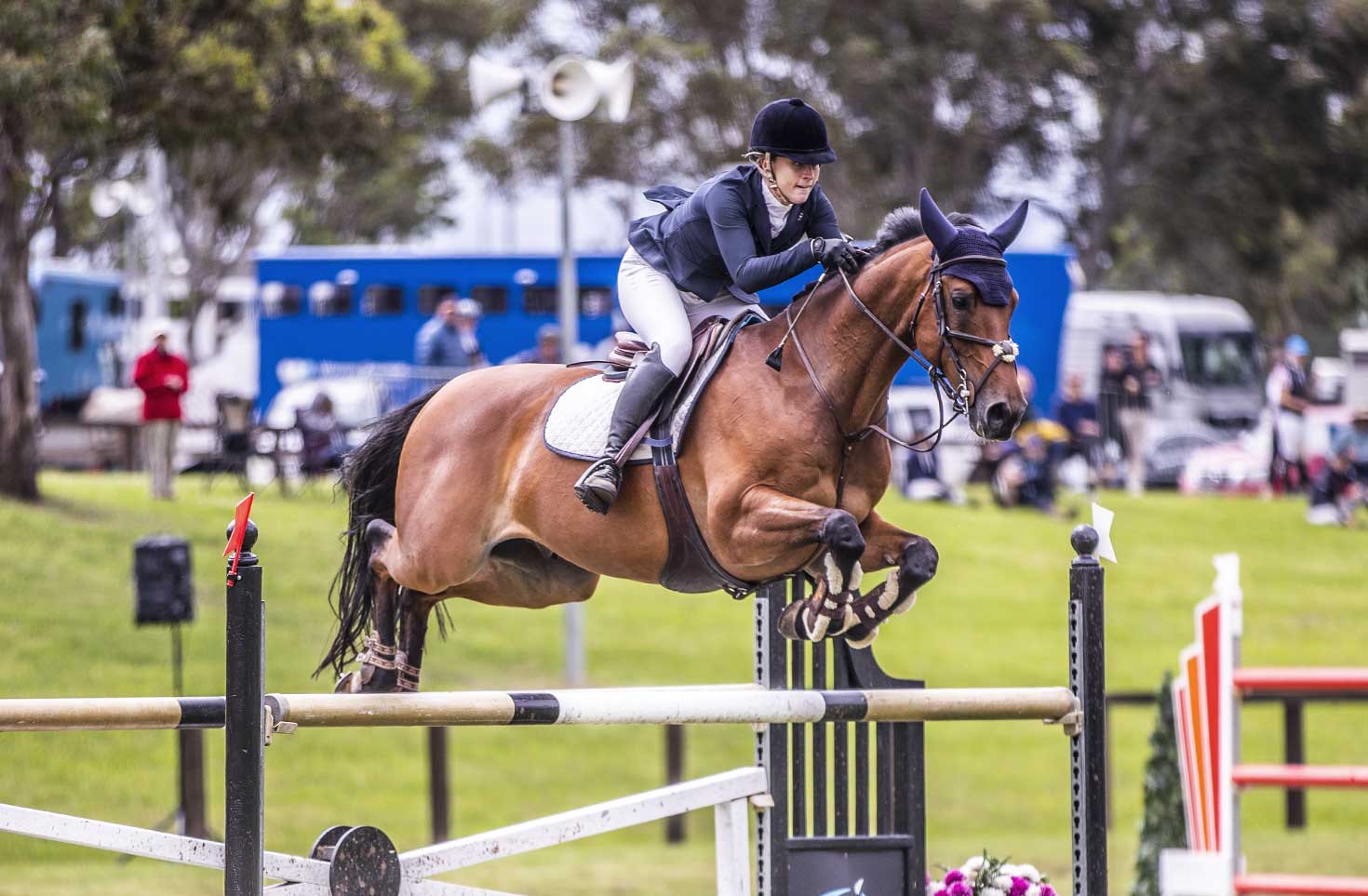 Australian Jumping
Above: Sarah McMillan and Tyrone VDL.
Despite the overcast conditions, the rain stayed away all day on the third day of the Chatham Park Summer Classic show, held at the Sydney International Equestrian Centre. The feature class of the day was the 1.50m Chatham Park Grand Prix which was taken out by Amanda Madigan and Diamond B Vivienne. For the full story on this class, click HERE.
Advertisement


The first class on the main arena this morning was the Emcee Apparel sponsored 1.20m class for Junior Riders. A total of 30 combinations were entered in the two-phase class and some outstanding riding saw nine combinations go clear in both phases. Following on from their win in the Open 1.10m competition yesterday afternoon, it was Anneliese Wansey and Bling Du Rouet, who scooted around the quickest to take the win in a phase two time of 33.72 seconds. Victorian visitor, Jordyn Lee-Madgwick and Cera Cadett were just 1.3 seconds behind in second place with third going to the former Trans-Tasman your rider challenge participant, Clemency Hughes and Nicolette, a further 0.4 seconds behind.
The next class was the final leg of the Stal Tops Young Rider Series, which unfortunately was restricted to just two events this year.  After a win in the first leg at Caboolture, Madeline Sinderberry went on to go two from two by taking out this morning's class. Out of nine clears in Round 1, eight combinations elected to participate in the jump-off. In fact, Madi had all three of her horses clear in Round 1 and elected to jump just two of them in the jump-off. When Madi came out on her second ride – Balentino, she knew she had to go clear in a time quicker than Matt Irvine and Finch Farm Vikram's time of 41.06 and that she did – all clear in 40.82 take the win.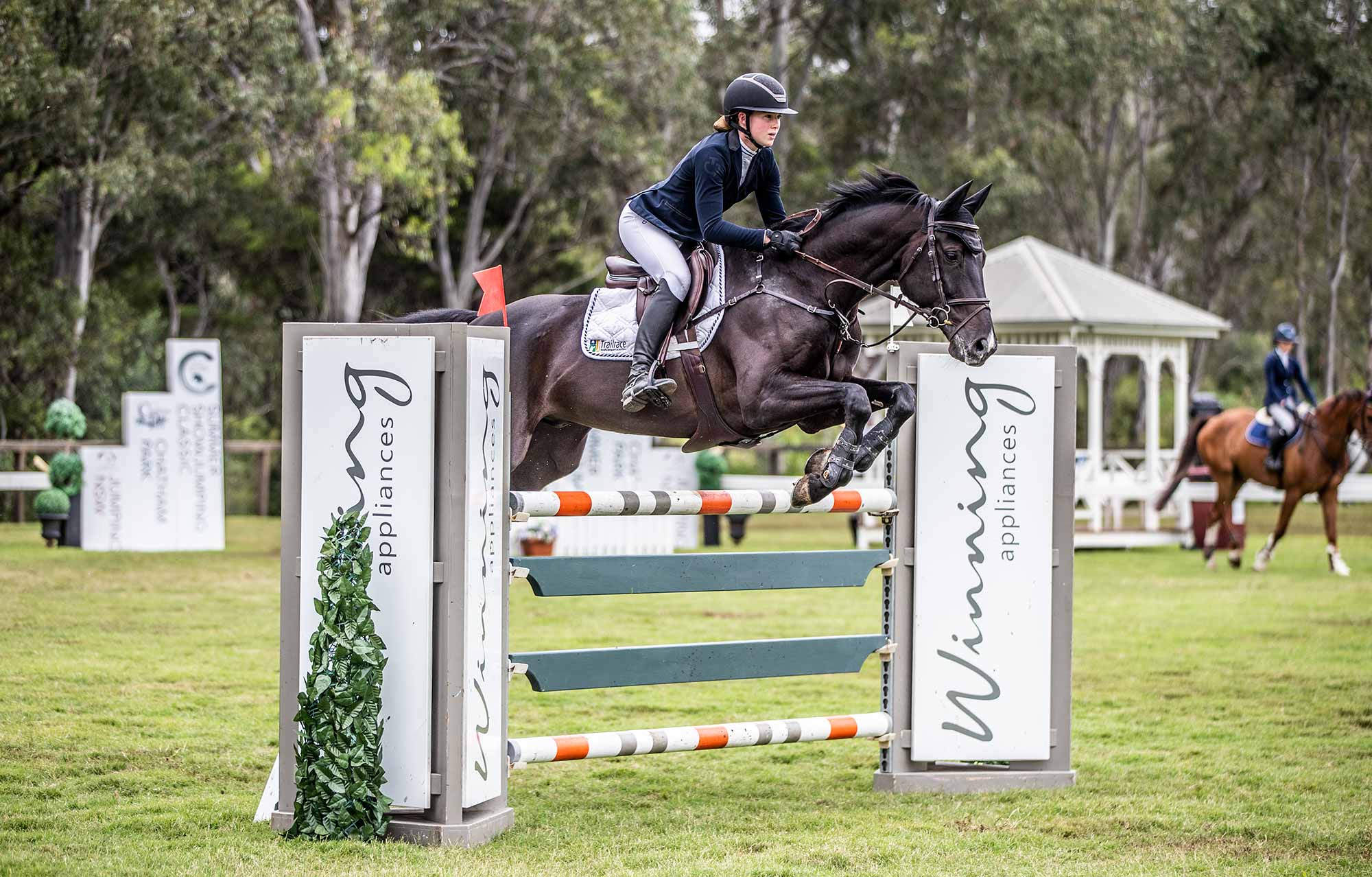 Madeline Sinderberry and Balentino
Next up we had the Camden Equine Centre Mini Prix, held over a 1.40m course. Interestingly, none of the 36 combinations could complete the course clear, however, there were four combinations who left all the rails up and in doing so, incurred a single time penalty each. These for came back for a jump-off and it was Sarah McMillan and a horse that has previously competed at World Cup Qualifier level with James Harvey, Tyrone VDL, in a smart time of 32.39 seconds. Sarah Duggan and Dublin were just 0.21 seconds slower in second place and the third clear round in the jump-off, and third place went to Tesse Raymont and Allwynds Valherro exactly 1.5 seconds behind. Hayley Cox and Eclipsis took a rail in the jump-off and had to settle for fourth.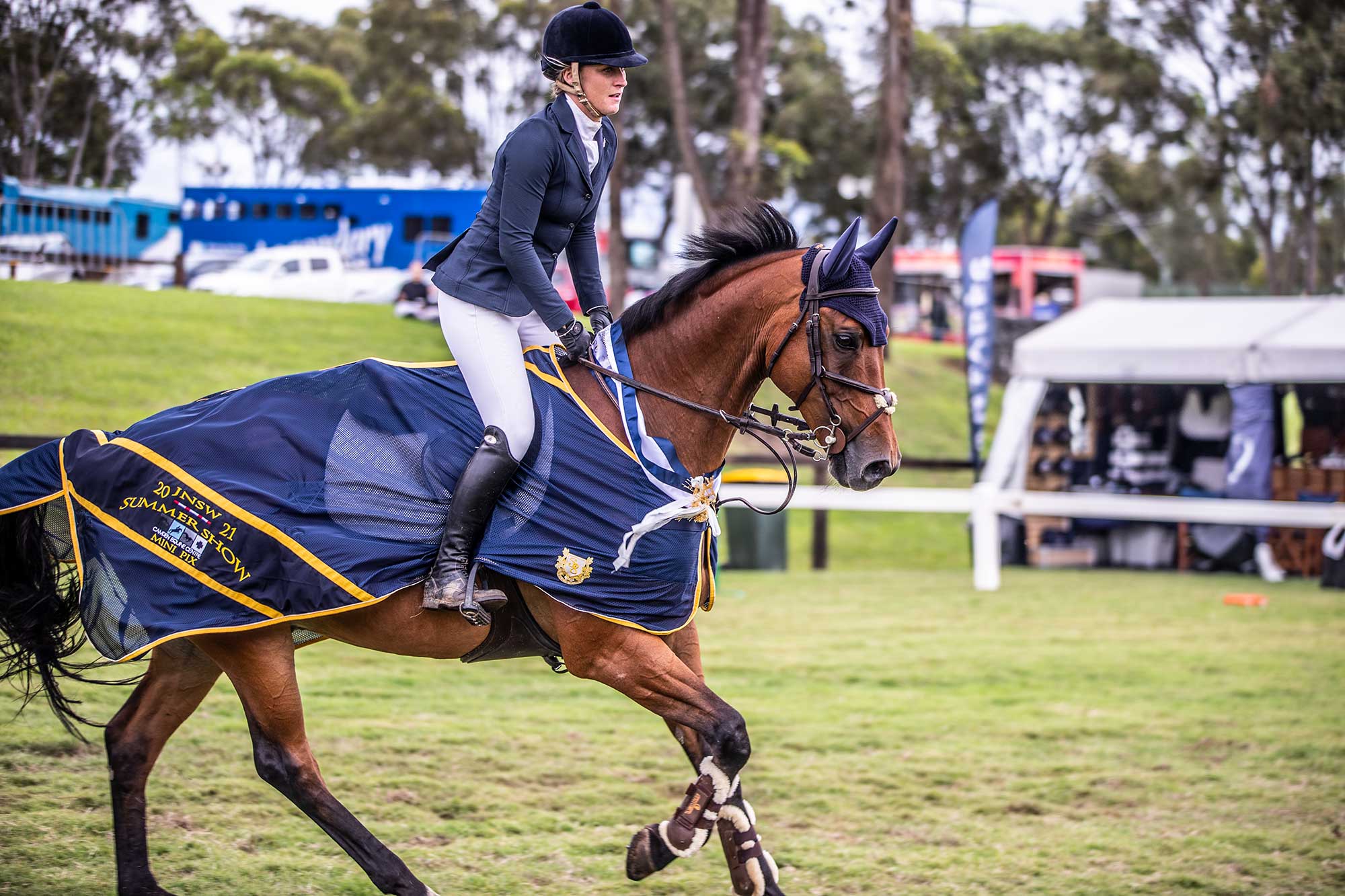 The final class of the day on the main arena was the Chatham Park Grand Prix taken out by Amanda Madigan and Diamond B Vivienne. For a full write-up of the action, click HERE.
There was plenty of jumping action to be seen on the ENSW sand arena. The first class this morning was an open 1.00 two-phase, which saw 19 combinations record double clears. With a scintillating time of just 26.56 seconds, the win went to Hollie Spence and Ego Miss Moet, over three seconds clear of Sophie Baldwin and Alcheringa Tradition in second place. Third placing went to Lauryn Vader and Survivor.
The next class was over 1.10m and was split into an open and a thoroughbred section. Billy Raymont continued his wonderful weekend piloting Tulara Willow to victory over 14 other combinations in an exciting jump-off. The thoroughbred division was fittingly won by Krissy Harris, who has been instrumental in developing thoroughbred showjumping and in particular developing off the track horses. She combined with Where's Cameron, who has had much success previously with Elizabeth Hoy.
The final class on arena 2 was also split into open and thoroughbred divisions. First place in the Open 1.20 division went to young New Zealand rider Matt Irvine and Yirrkala Quinten, topping off a great day for him, following his second placing in the Stal Tops Young Rider Class earlier. Also double clear, but half a second slower in the jump-off, was Mackenzie Johnson and Along Came Polly. South Coast rider Deon Williams and Versace Vision were third. Charlie Richardson and Mavrick were the winners of the thoroughbred division.
Congratulations to all the winners and placegetters today. Below is a list of the first six combinations in each class.
CHATHAM PARK – ARENA 1
CLASS 13: EMCEE Apparel – Junior Rider – 1.20m
| | | |
| --- | --- | --- |
| PLACE | RIDER | HORSE |
| 1st | Anneleise Wansey | Bling Du Rouet |
| 2nd | Jordyn Lee-Madgwick | Cera Cadett |
| 3rd | Clemency Hughes | Nicolette |
| 4th | Mikayla Hogg | Bellhaven Coringa |
| 5th | Charlie Richardson | Mavrick |
| 6th | Aria Baker | That's Limo |
CLASS 14: Stal Tops – Young Rider – 1.30m
| | | |
| --- | --- | --- |
| PLACE | RIDER | HORSE |
| 1st | Madeline Sinderberry | Balentino |
| 2nd | Matt Irvine | Finch Farm Vikram |
| 3rd | Madeline Sinderberry | Keilor Bamboo |
| 4th | Hayley Cox | Tulara Zane |
| 5th | Lucie Aldridge | Ollie Olae |
| 6th | Lauren Routledge | Yalambi's Isodora |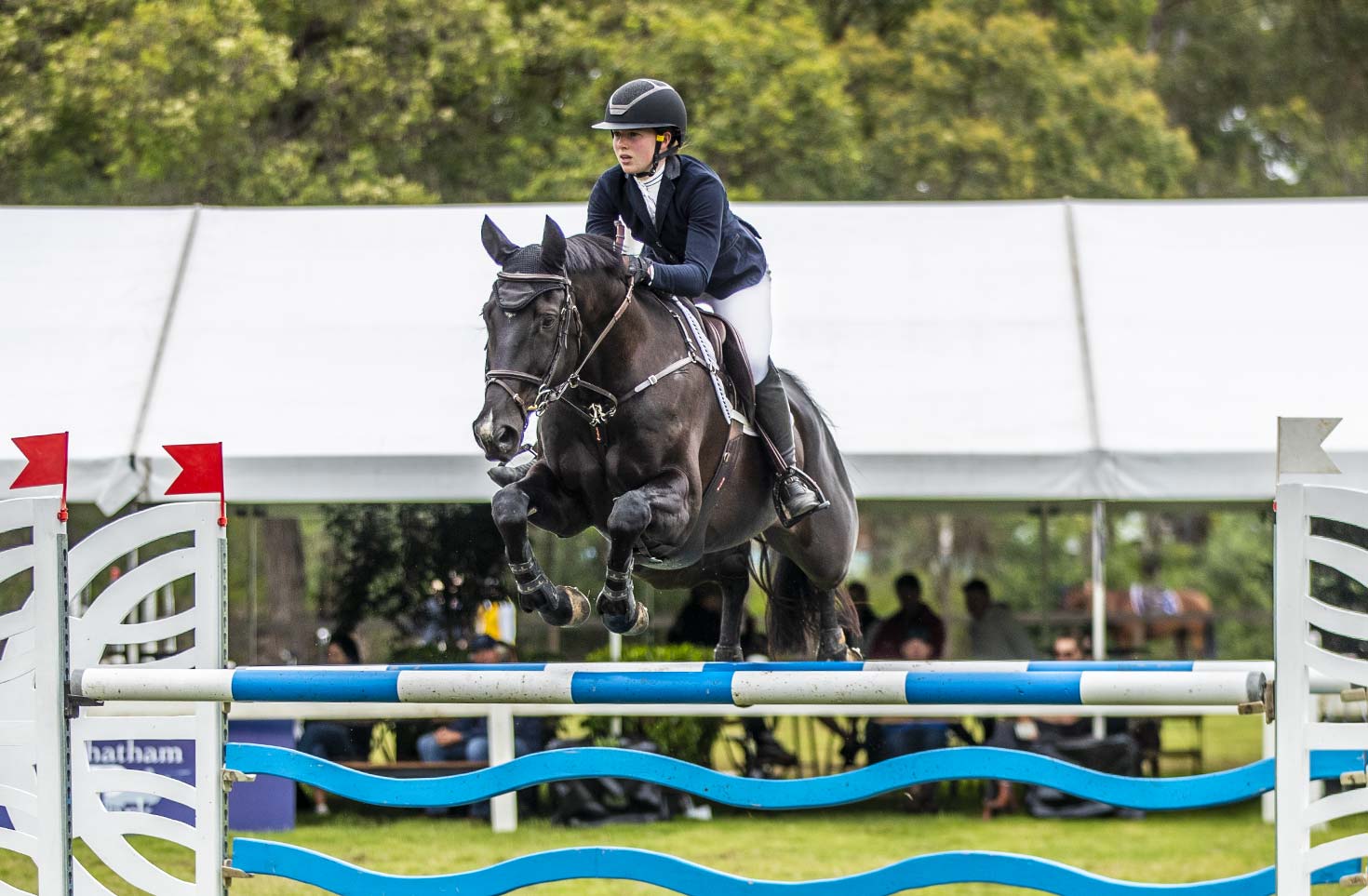 Madeline Sinderberry and Balentino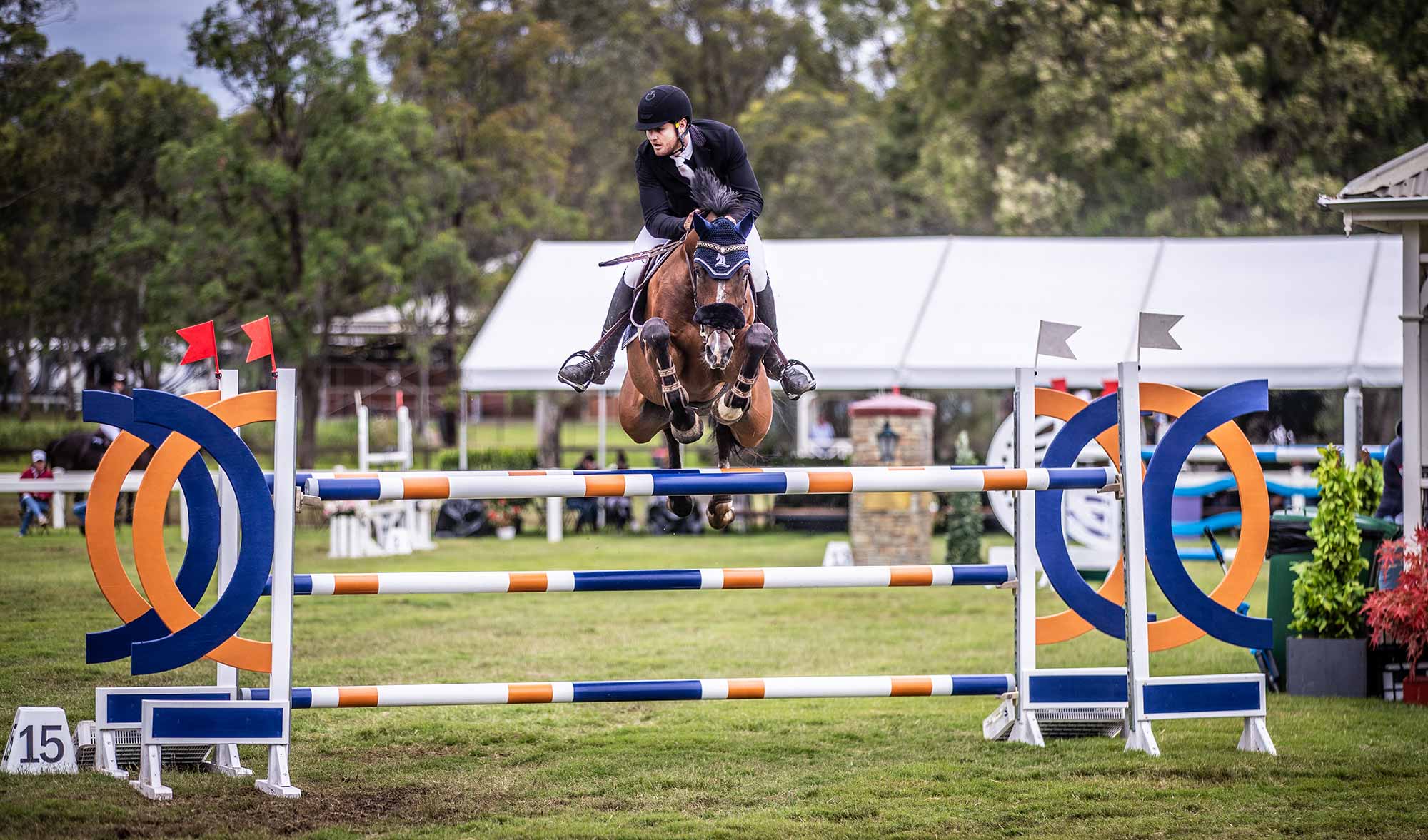 Matt Irvine and Finch Farm Vikram
CLASS 15: Camden Equine Centre – Mini Prix – 1.40m
| | | |
| --- | --- | --- |
| PLACE | RIDER | HORSE |
| 1st | Sarah McMillan | Tyrone VDL |
| 2nd | Sarah Duggan | Dublin |
| 3rd | Tesse Raymont | Allwynds Valherro |
| 4th | Hayley Cox | Eclipsis |
| 5th | James Mooney | KPH Cavatina |
| 6th | Izabella Stone | Tulara Stolzette |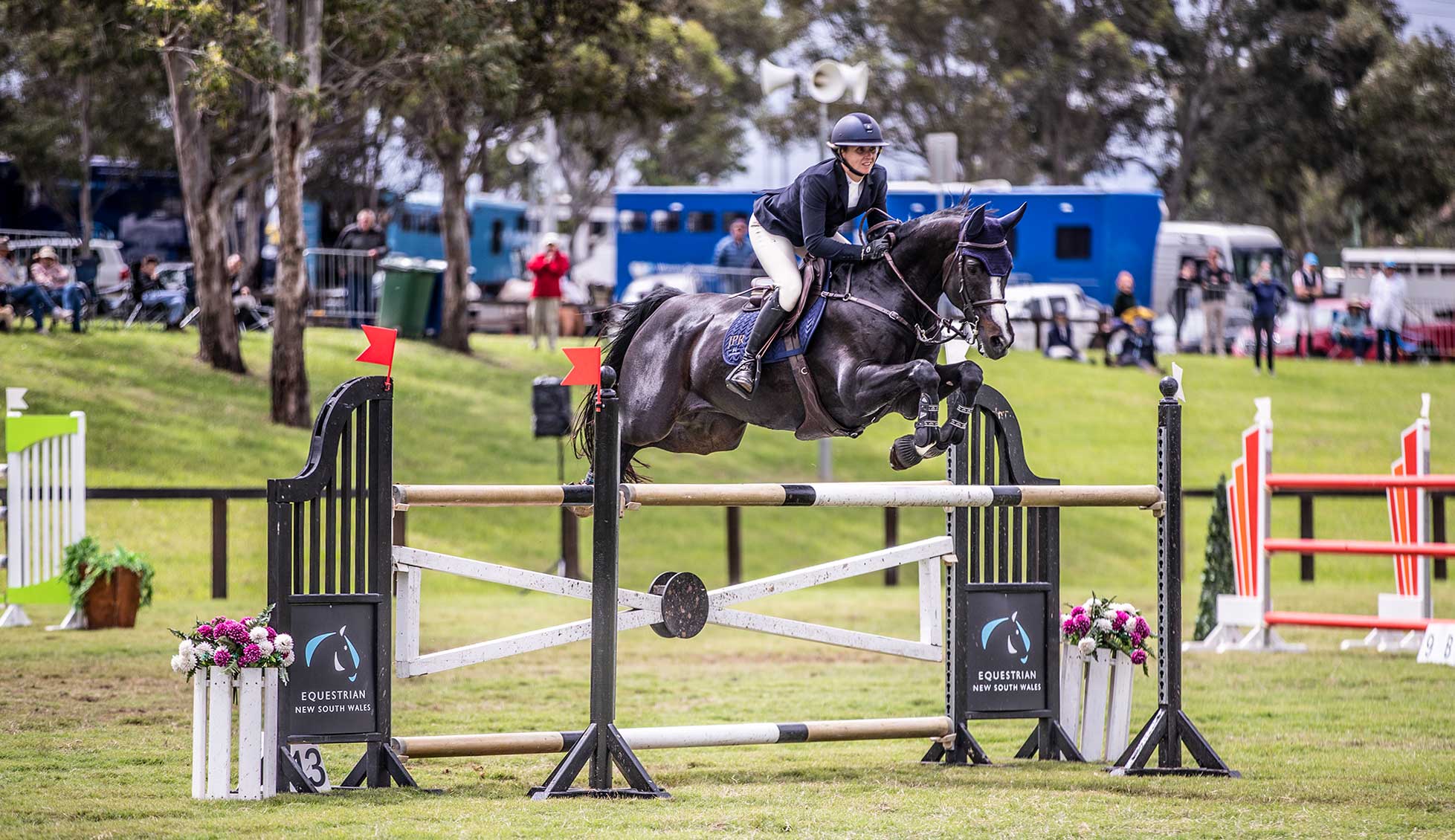 Sarah Duggan and Dublin
CLASS 16: Chatham Park – Grand Prix – 1.50m
| | | |
| --- | --- | --- |
| PLACE | RIDER | HORSE |
| 1st | Amanda Madigan | Diamond B Vivienne |
| 2nd | Amber Fuller | CP Aretino |
| 3rd | Billy Raymont | Anton |
| 4th | Kate Hinschen | Oaks Ventriliquist |
| 5th | Billy Raymont | Black Jack IXE |
| 6th | Ally Lamb | Eagle Rock |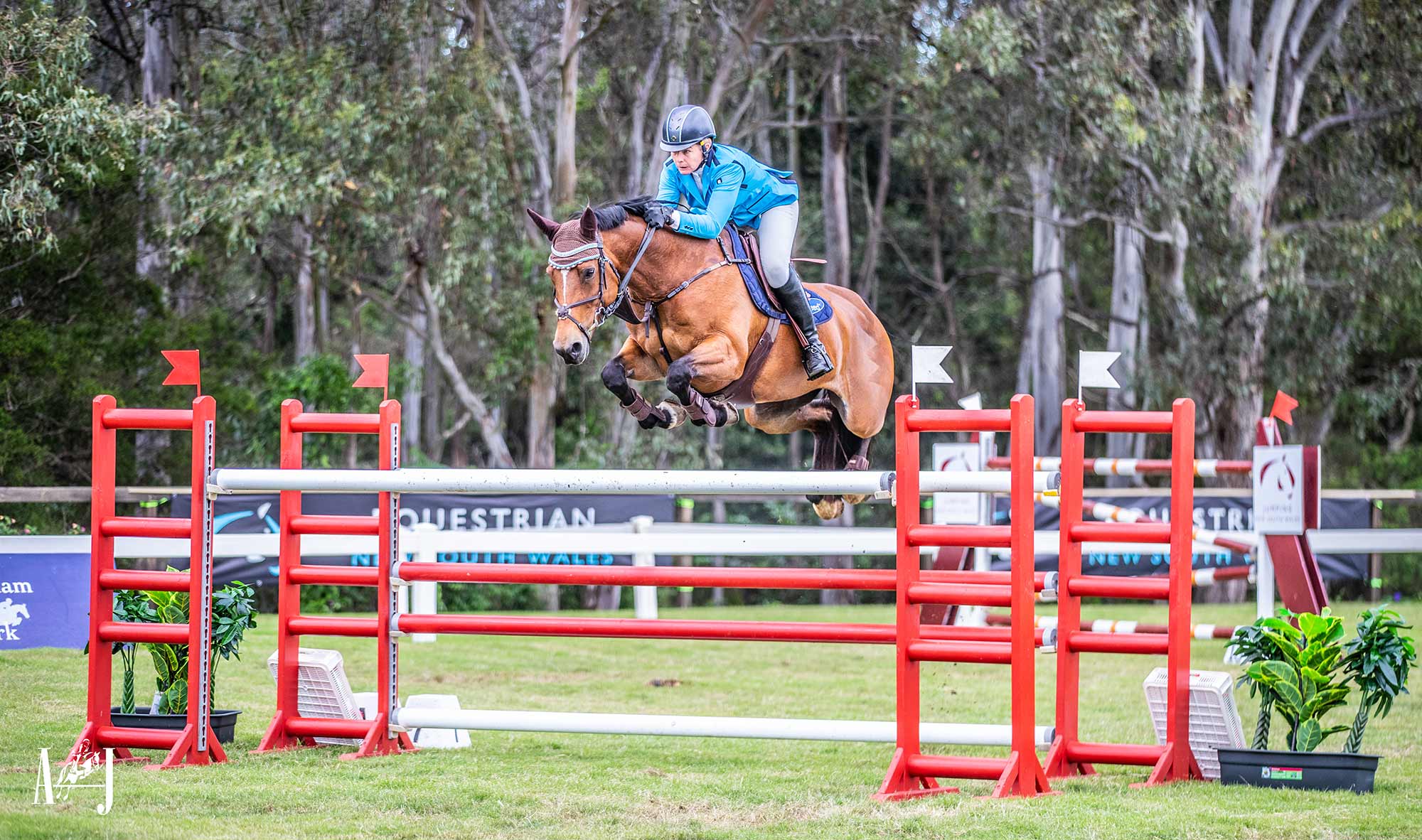 Amanda Madigan and Diamond B Vivienne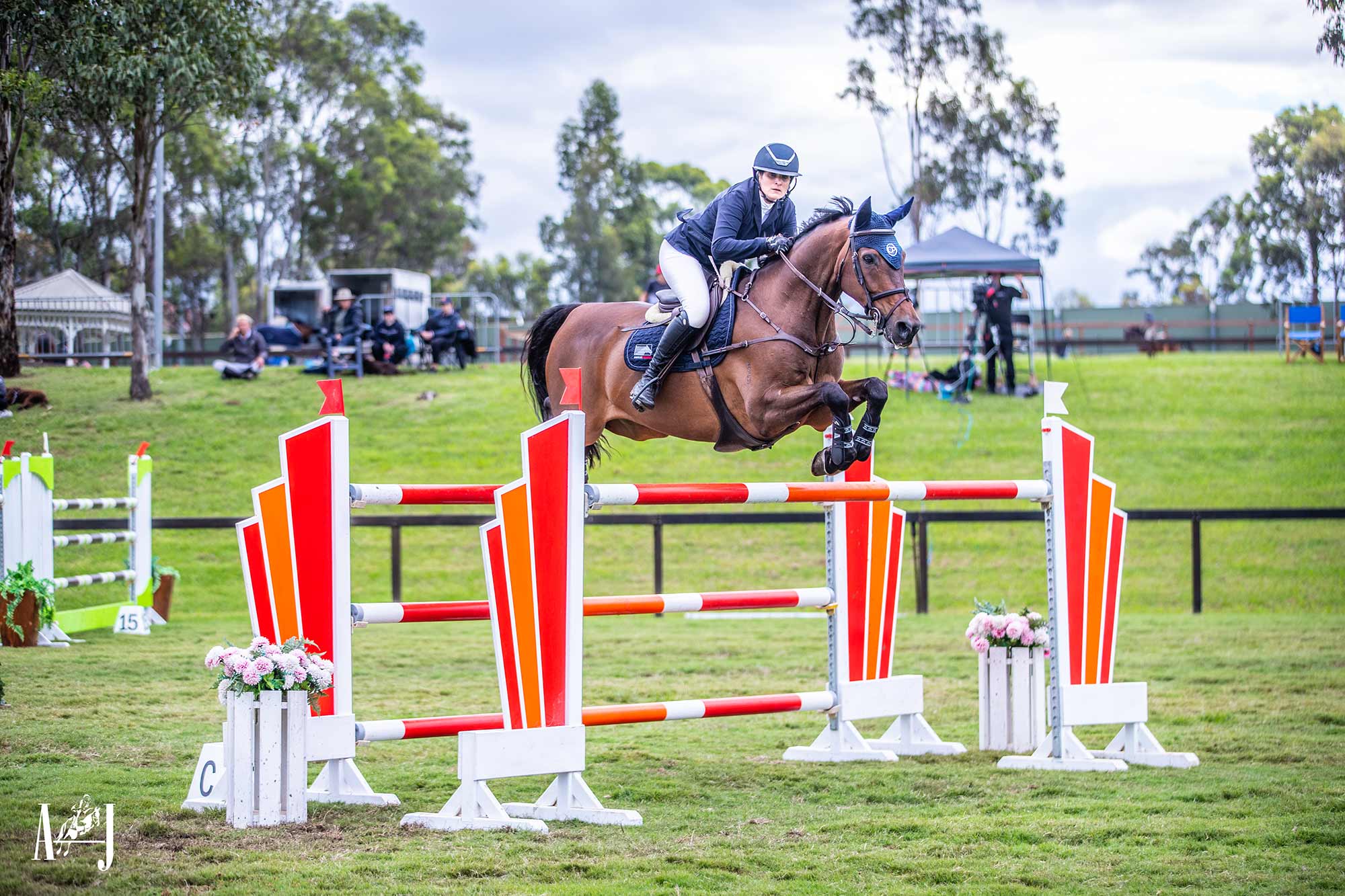 Amber Fuller and CP Aretino
ENSW – ARENA 2
CLASS 17: OPEN – 1.00m
| | | |
| --- | --- | --- |
| PLACE | RIDER | HORSE |
| 1st | Hollie Spence | Ego Miss Moet |
| 2nd | Sophie Baldwin | Alcheringa Tradition |
| 3rd | Lauryn Vader | Survivor |
| 4th | Sienna Bellis | Xcella |
| 5th | Laura Munt | Bella Blu |
| 6th | Alexandra Inglis | Diamond B Babybel |
CLASS 18A: OPEN – 1.10m
| | | |
| --- | --- | --- |
| PLACE | RIDER | HORSE |
| 1st | Billy Raymont | Tulara Willow |
| 2nd | David Robertson | Queno 4 |
| 3rd | Victoria Hoy | Tulara Forini |
| 4th | Sienna Bellis | Xcella |
| 5th | Nathan Williams | Spannerkop |
| 6th | Aaron Hadlow | Bellhaven Seacrest |
CLASS 18B: Thoroughbred Group 2 – 1.10m
| | | |
| --- | --- | --- |
| PLACE | RIDER | HORSE |
| 1st | Krissy Harris | Where's Cameron |
| 2nd | Mark Atkins | Elite Partners |
| 3rd | Lily-Rose Baxter | Foxhill Cruise |
| 4th | Jessica Ryan | Aviator |
| 5th | Sophie Baldwin | Station Master |
| 6th | Rachel Higgins | De Lago Resort |
CLASS 19A: Ozshots – OPEN – 1.20m
| | | |
| --- | --- | --- |
| PLACE | RIDER | HORSE |
| 1st | Matt Irvine | Yirrkala Quinten |
| 2nd | Mackenzie Johnson | Along Came Polly |
| 3rd | Deon Williams | Versace Vision |
| 4th | Charlie Robinson | Charisma 2 |
| 5th | Vicki Roycroft | Kenny Casino |
| 6th | Bella Du Plesses | Onessa MVNZ |
CLASS 19B: Thoroughbred Group 1 – 1.20m
| | | |
| --- | --- | --- |
| PLACE | RIDER | HORSE |
| 1st | Charlie Richardson | Mavrick |
| 2nd | Gemma Silk | Oscar Bosciola |
| 3rd | Tom McDermott | Sparky Lad |
| 4th | Leila Wyrill | Jadan Park Acapella |
| 5th | Bryia Anderson | DP Democracy |
| 6th | Jett Newman | Alley |
Results sourced from Global Entries Online
View Comments