event History
Sydney Royal History – Most Successful Boy Rider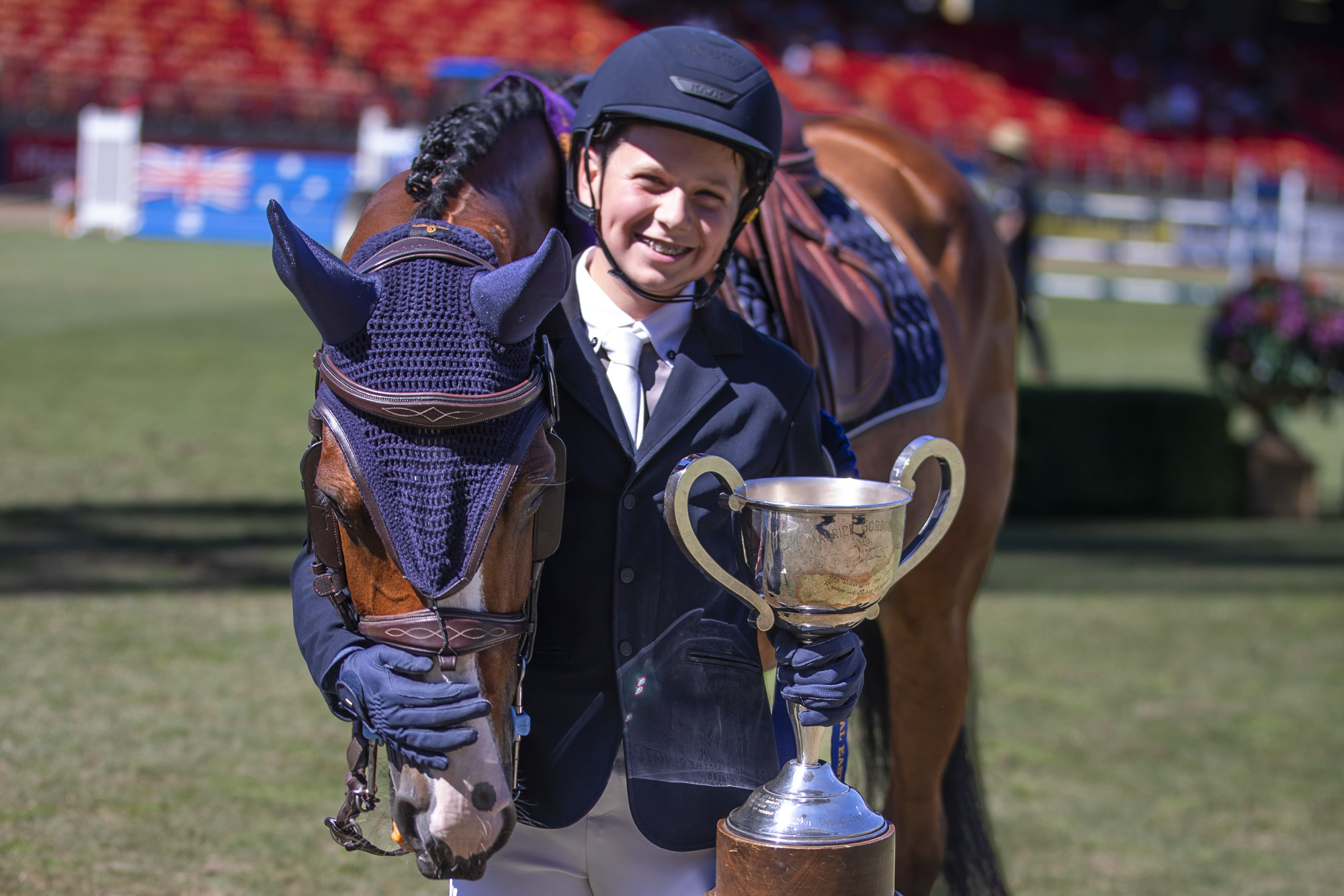 Australian Jumping
Above: Charlie Magnier – Most Successful Boy Rider 2023.
There is long history associated with The Most Successful Boy Rider at Sydney Royal and what a list of riders this is. Names include Olympians and World Championship riders as well as many of our stars from current times.
The trophy was donated by Mr & Mrs D Gordon and is awarded annually to the most successful boy rider in Group B Jumping contests. The trophy, first presented in 1952 is a silver-plated twin handled cup with scroll handles, raised on a timber base.
In 2023, the award was won for the second time by Charlie Magnier (whom we are confident will go on to add his name to the list of Olympians if that is what he so chooses).
The previous winners are listed below.  If you can clarify any names on this list where initials are provided please don't hesitate to contact us.
Advertisement


LIST OF PREVIOUS WINNERS

| | |
| --- | --- |
| YEAR | RIDER |
| 1952 | W Grant |
| 1953 | J Moss |
| 1954 | K Waterford |
| 1955 | K Smith |
| 1956 | M Hariden |
| 1957 | G Barker |
| 1958 | John Fahey |
| 1959 | Barry Roycroft |
| 1960 | John Fahey |
| 1961 | Wayne Roycroft |
| 1962 | Wayne Roycroft |
| 1963 | Wayne Roycroft |
| 1964 | B Anderson |
| 1965 (equal) | R Hansen |
| 1965 (equal) | AJ Fox |
| 1966 | R Hanson |
| 1967 | G Foran |
| 1968 | R Johnson |
| 1969 | JA Gleeson |
| 1970 | Des Gleeson |
| 1971 | Des Gleeson |
| 1972 | Simon Kale |
| 1973 | David Houston |
| 1974 | Kevin Peeck |
| 1975 | David Dobson |
| 1976 | Gavin Chester |
| 1977 | Andrew Cooper |
| 1978 | J Brownlie |
| 1979 (equal) | W Chaffley |
| 1979 (equal) | D Campbell |
| 1980 | Brad Frankum |
| 1981 | Brad Frankum |
| 1982 | Michael Freedman |
| 1983 | M Chaffey |
| 1984 | DC or Simon Chaffey |
| 1985 | J Robertson |
| 1986 | RG Graham |
| 1987 | T Priestley |
| 1988 | R Ainsley |
| 1989 | Stephen Way |
| 1990 | D Williams |
| 1991 | S Neil |
| 1992 | DB Guthrie |
| 1993 | B Harvey |
| 1994 | James Paterson-Robertson |
| 1995 | James Paterson-Robertson |
| 1996 | DW Willis |
| 1997 | Damien Seddon |
| 1998 | Ian Hamilton |
| 1999 | Ian Hamilton |
| 2000 | Ian Hamilton |
| 2001 | Lachlan Manuel |
| 2002 (equal) | Matt Williams |
| 2002 (equal) | Sheridan Manuel |
| 2003 | Aaron Hadlow |
| 2004 | Aaron Hadlow |
| 2005 | NJ Wood |
| 2006 | C James |
| 2007 | Tom Sedger |
| 2008 | Jack Maunder |
| 2009 | James Hetherington |
| 2010 | Tom McDermott |
| 2011 | Jake Hunter |
| 2012 | Jake Hunter |
| 2013 | Lane Clarke |
| 2014 | Cade Hunter |
| 2015 (equal) | Riley Mackillop |
| 2015 (equal) | Jock Rice-Ward |
| 2016 | Cade Hunter |
| 2017 | Cade Hunter |
| 2018 | Conor Reed |
| 2019 | Not Awarded |
| 2020 | Cancelled due to COVID-19 |
| 2021 | No Entries |
| 2022 | Charlie Magnier |
| 2023 | Charlie Magnier |
View Comments