event History
Sydney Royal History – The Samuel Hordern Memorial Perpetual Trophy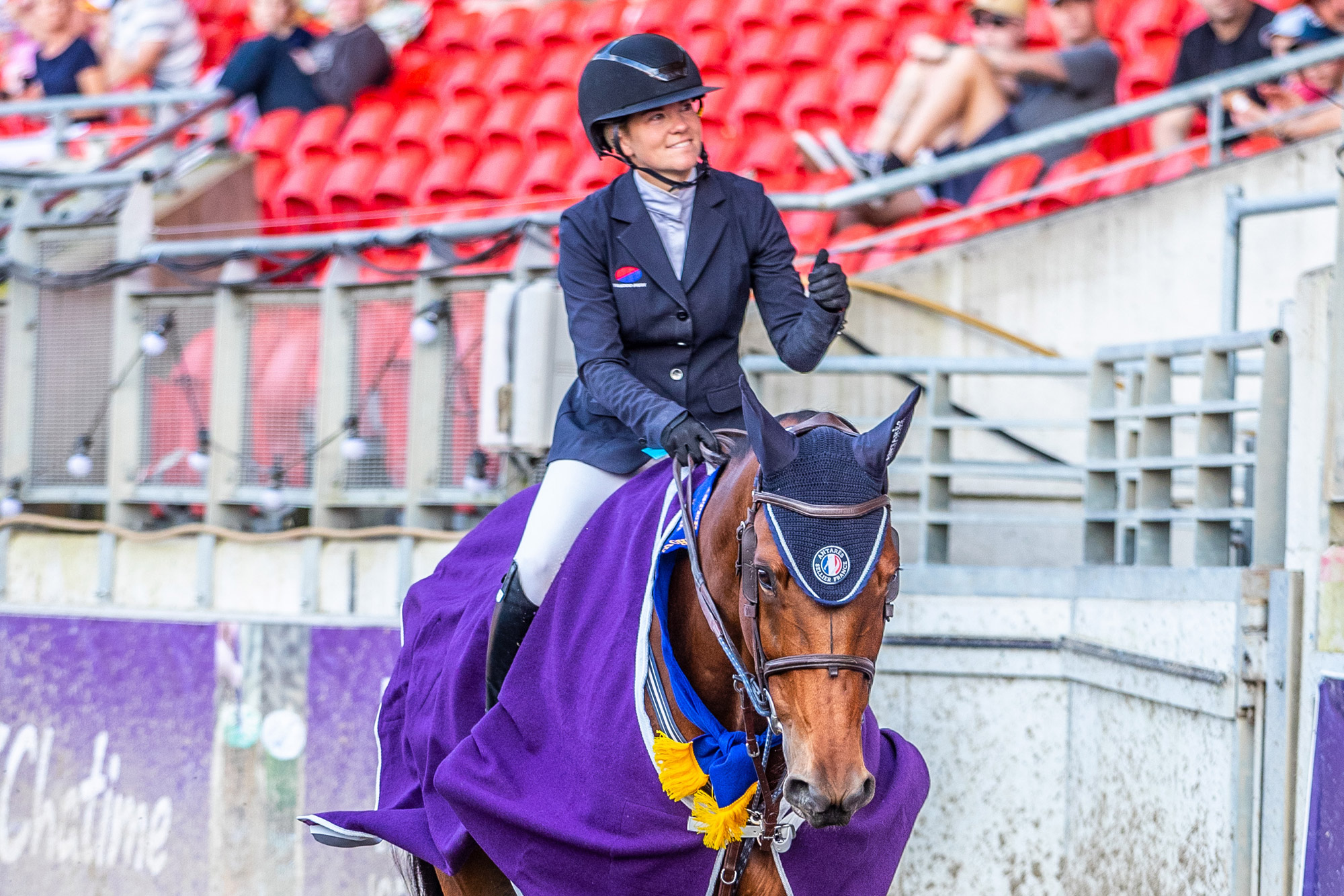 Australian Jumping
Above: Yandoo Oaks Constellation ridden by Jamie Winning Kermond.
The Samuel Hordern Memorial Perpetual Trophy is awarded to the Jumping Horse of the Show.
The award of the Samuel Hordern Memorial Perpetual Trophy for Jumping Horse of the Show was originally presented to the rider of the winning horse in the advanced section of the Three-Day Event. The Three-Day Event was eliminated after the 1986 Show, the trophy was then transferred to the Jumping class. It was then awarded to the Exhibitor of the Horse scoring the greatest number of points in Group "A" and Group "C" Showjumping.
Advertisement


Mr Samuel (Sam) Hordern CMG OBE was RAS Councillor 1935-1950 RAS, Ringmaster 1948-1954 RAS Vice President 1950-1954 and RAS President 1954-1960. Mr Sam Hordern was killed in a car accident in 1960. His father Sir Samuel Hordern was also president of the RAS.
The Trophy is a 9ct gold twin handled cup raised on a tapering circular timber plinth. Made by Hardy Bros., circa 1950. It was donated by the Committee of the Equestrian Federation of Australia (NSW) Ltd and first presented in 1961.
LIST OF PREVIOUS WINNERS – EVENTING
| | | |
| --- | --- | --- |
| YEAR | EXHIBITER | HORSE |
| 1961 | W Roycroft | Robin Hood |
| 1962 | W Roycroft | Robin Hood |
| 1963 | EF Barker | Jody |
| 1964 | M & W Roycroft | El Dorado |
| 1965 | BW & GW & CJ Cobcroft | Robin Hood |
| 1966 | W Roycroft | EL Dorado |
| 1967 | JW Roycroft | Avatar |
| 1968 | M & W Roycroft | Warrathoola |
| 1969 | B Bowman & EF Barker | Sammy |
| 1970 | M & W Roycroft | Furtive |
| 1971 | M & W Roycroft | Warrathoola |
| 1972 | J Roberts | Daddy Long Legs |
| 1973 | R Hunter & N Towhill | Kinsale |
| 1974 | Mrs DV Robertson | Devilkin |
| 1975 | MJ & EA Bennett | Regal Heir |
| 1976 | M & W Roycroft & Sir Alec Creswick | Version |
| 1977 | Not Awarded | Not Awarded |
| 1978 | P Young | Matalina II |
| 1979 | W Roycroft | Harvest Gold |
| 1980 | W Roycroft | Harvest Gold |
| 1981 | R Shoesmith | Martin's Lad |
| 1982 | MJ Bennett | Regal Melody |
| 1983 | J Cooper | Martin's Lad |
| 1984 | Vicki Roycroft | Faro |
| 1985 | R Mitton | Charlatan |
| 1986 | L Tynan | Goonamurrah Hennessy |
LIST OF PREVIOUS WINNERS – JUMPING
| | | |
| --- | --- | --- |
| YEAR | EXHIBITER | HORSE |
| 1987 | KP Bourke & R Prichard | Touralidy |
| 1988 | G McDermott | Mr Shrimpton |
| 1989 | Miss CJ Brook, GT Jones & GJ McDermot | Not Listed |
| 1990 | H Wilson (NZ) | May Day |
| 1991 | Tony Barlow Menswear S/J Team | Not Listed |
| 1992 | Equestrian Bloodstock Agency | Isaiah |
| 1993 | Tony Barlow Menswear S/J Team | Tony Barlow Sorrento |
| 1994 | Tony Barlow Menswear S/J Team | Tony Barlow Sorrento |
| 1995 | RJ & EE Thomas | Poldark |
| 1996 | AM & Miss EA Grenda | OT Flying High |
| 1997 | DS Scott | Jox |
| 1998 | AJ Williams | November Rain |
| 1999 | G & Mrs S Chester | Another Flood |
| 2000 | CJ Chugg & Banj P/L | Diamond B Ego |
| 2001 | RJ Easey | Stumpy |
| 2002 | Not Awarded | |
| 2003 | Kanella P/L | Coalminer |
| 2004 | A Inglis & G & C Chapman | Mr Burns |
| 2005 | G & Mrs C Chapman | Mr Burns |
| 2006 | PT McMahon | Kolora Stud Genoa |
| 2007 | M Ubank | Dover Street |
| 2008 | Mrs L Hargreaves | Copabella Haymen |
| 2009 | A Inglis & P Kelly | Licara |
| 2010 | Grant Hughes | Yakkity Yak |
| 2011 | Roycroft Stables | Kartoon De Breve |
| 2012 | Tripp Family & Thomas McDermott | CP Romantic Dream |
| 2013 | Greg McDermott | Laguna Beach |
| 2014 | Clinton Beresford | Emmaville Jitterbug |
| 2015 | Emily Jane Longhurst | Rhapsody In Blue |
| 2016 | Marylou Potts | CP Aretino |
| 2017 | Paul Kelly & Jenny Sheppard | Licaviv |
| 2018 | Clinton John Beresford | Emmaville Jitterbug |
| 2019 | Thomas & Greg & Jennie McDermott | Elegance De La Charmille |
| 2020 | Cancelled due to COVID-19 | |
| 2021 | Yandoo Equestrian Services | Yandoo Oaks Constellation |
| 2022 | Yandoo Equestrian Services | Yandoo Oaks Constellation |
| 2023 | Diamond B Farm Pty Ltd | Diamond B Vivienne |
View Comments