Tesse Raymont dominates in Port Phillip SJC Grand Prix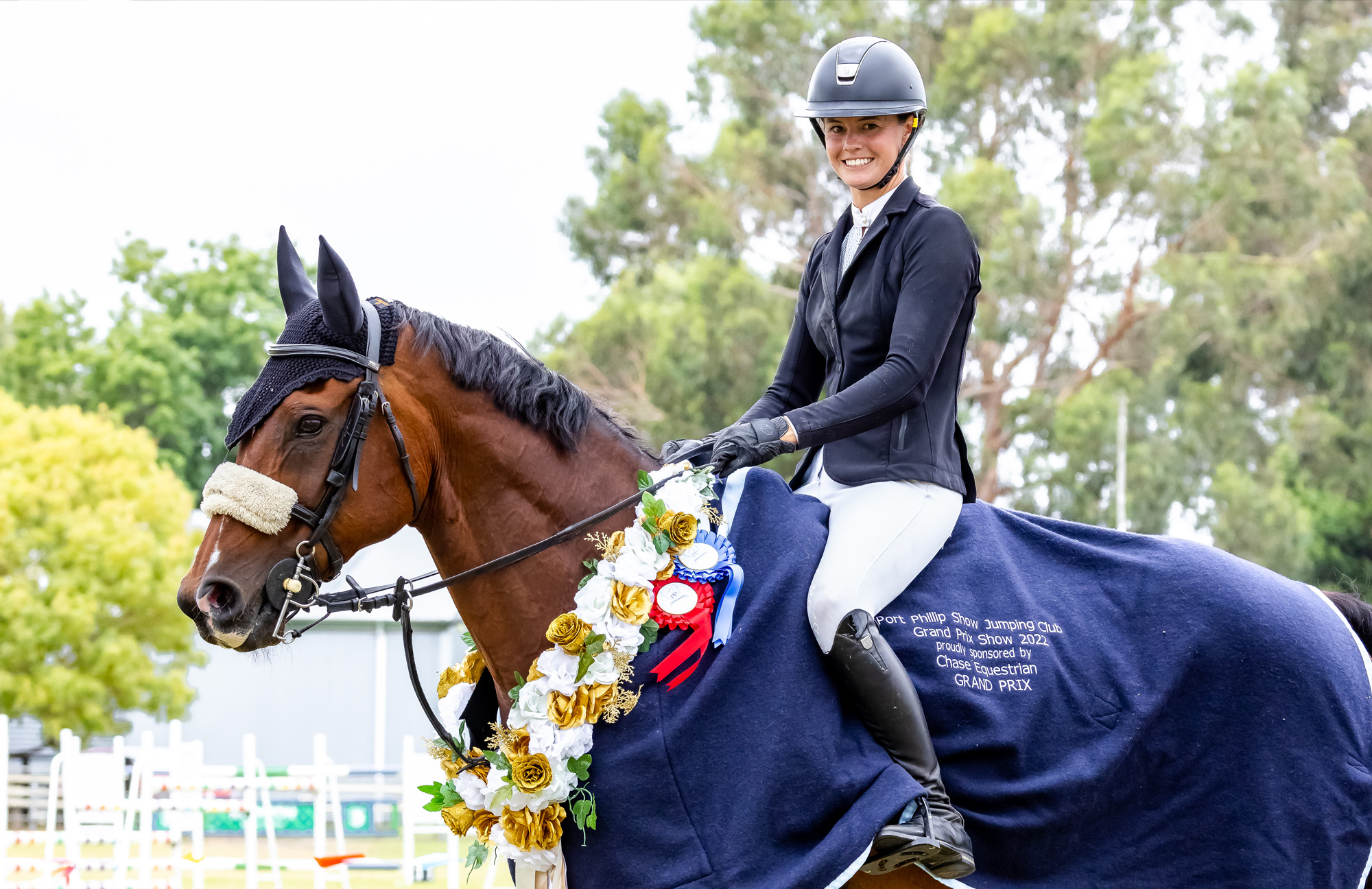 One Eyed Frog Photography
Above: Tess Raymont and Anton. Photo credit: One Eyed Frog Photography.
The Port Phillip Showjumping Club, who hold events at the Lang Lang Showground, did have a two day show scheduled for the weekend. However while the grounds were deemed to be too wet for competition on Saturday and the day had to be cancelled, it was full steam ahead for a wonderful program of Jumping on Sunday. There was just one change to the program, with all classes scheduled for Ring 1, moved to the Oval as well. For many competitors, this was valuable competition in the lead up to the upcoming World Cup Shows at Shepparton (18-20 March) and Werribee D&JWTS (24-26 March).
Advertisement


The feature class of the day was the Chase Equestrian, 1.45m Grand Prix, which saw just the 10 combinations entered. With three rides in the class, there was always going to be a good chance that Tesse Raymont would feature in the results. Taking full advantage of the fact that husband Billy is out of action at the moment, Tesse has taken over his normal mounts and has used the situation to her advantage. Winners of the Grand Prix were Tesse Raymont and Anton, deservedly so, being the sole combination to achieve double clears. Second place and ending up on five penalties after going into the second round on zero, was, once again, Tesse Raymont and the magnificent stallion Black Jack IXE. Also going into the second round on zero, but totalling seven penalties in round two, were Amanda Ross and RLE Poynstown Will in third. Adam Prime and Saddle Up Smudge were fourth, while once again, it was Tesse Raymont, this time on one of her regular mounts, Allwynds Valherro coming in fifth. It was a great performance by Tesse to finish with all three of her mounts in the top half of the field.
Megan Joyce and Blackall Park Cha Cha went double clear to clinch the win in the Kiernan Plant Hire Mini Prix.
Advertisement


Congratulations to all the winners and placegetters from the show. Placegetters in all classes are listed below.
SUNDAY RESULTS
MAIN ARENA
CLASS A5: CONWAY AG SERVICES: UNDER 20 POINTS CHAMPIONSHIP – 1.10-1.15m
| | | |
| --- | --- | --- |
| PLACE | RIDER | HORSE |
| 1st | Hamish Prime | Diaritt |
| 2nd | Murray Sproull | Wild Kard |
| 3rd | Sam Williams | Oaks Kiribati |
| 4th | Tanner Robinson | Charlie |
| 5th | James Harvey | GC Chicane |
| 6th | Clyde Sherajones | Si Si Strike |
CLASS 6A: KIERNAN PLANT HIRE: MINI PRIX – 1.30-1.35m
| | | |
| --- | --- | --- |
| PLACE | RIDER | HORSE |
| 1st | Megan Joyce | Blackall Park Cha Cha |
| 2nd | Nina Griffiths | Zammora S |
| 3rd | Tesse Raymont | YPH Capulet |
| 4th | Phil Stevens | Baluce |
| 5th | Brook Dobbin | Gina MVNZ |
| 6th | Caitlin Bolger | Caprino |
CLASS 7A: CHASE EQUESTRIAN: GRAND PRIX – 1.45m
| | | |
| --- | --- | --- |
| PLACE | RIDER | HORSE |
| 1st | Tesse Raymont | Anton |
| 2nd | Tesse Raymont | Black Jack IXE |
| 3rd | Amanda Ross | RLE Poynstown Will |
| 4th | Adam Prime | Saddle Up Smudge |
| 5th | Tesse Raymont | Allwynds Valherro |
| 6th | Kate Beadel | Lily Elmare |
CLASS 8A: PONDEROSA: UNDER 50 POINTS – 1.25m
| | | |
| --- | --- | --- |
| PLACE | RIDER | HORSE |
| 1st | Tanner Robinson | Magnum MVNZ |
| 2nd | Georgia Hodgetts | Corinda |
| 3rd | Tim Wilson | Vivarchie |
| 4th | Jim Richards | Foreign Secret |
| 5th | Elissa Stephens | Vertigo |
| 6th | Jack Barker | Tulara Colchic |
RING 2
CLASS B4: GLENWOOD PARK: – 0.85m
| | | |
| --- | --- | --- |
| PLACE | RIDER | HORSE |
| 1st | Ava Harrington | Miss Demeanor |
| 2nd | Ebony Beecroft | Finch Farm Tarantino |
| 3rd | Michelle Cochrane | Solomon |
| 4th | Emily Hill | Hillview Izabella |
| 5th | Renee Hunter | Wattle Park Vienna |
| 6th | Grace Leipa | Castleburn The Merc |
CLASS B5: MOODY RACING: – 0.95m
| | | |
| --- | --- | --- |
| PLACE | RIDER | HORSE |
| 1st | Charley Beecroft | Wonder Flash |
| 2nd | Lily Ivancic | Pronto e Allevamento |
| 3rd | Charley Beecroft | Money And Power |
| 4th | Darby Beadel | Jaybee Tarak |
| =5th | Charlee Dobbin | Sweet Dream FPH |
| =5th | Ebony Beecroft | Finch Farm Tarantino |
CLASS B6: BURDETTSSAND & SOIL – 1.05m
| | | |
| --- | --- | --- |
| PLACE | RIDER | HORSE |
| 1st | Kate Beadel | Camilla Elmare |
| 2nd | Megan Joyce | Sadie Greig |
| 3rd | Murray Sproull | Cashed Up |
| 4th | Amanda Lupton | KP Checkmate |
| 5th | Charlie Chila | Blackall Park Tyn Tynder |
| 6th | Rhys Hamlyn | Finch Farm Carlton |
Results sourced from online.equipe.com
View Comments