The weather was cold but the competition was hot on Day 2 of AJC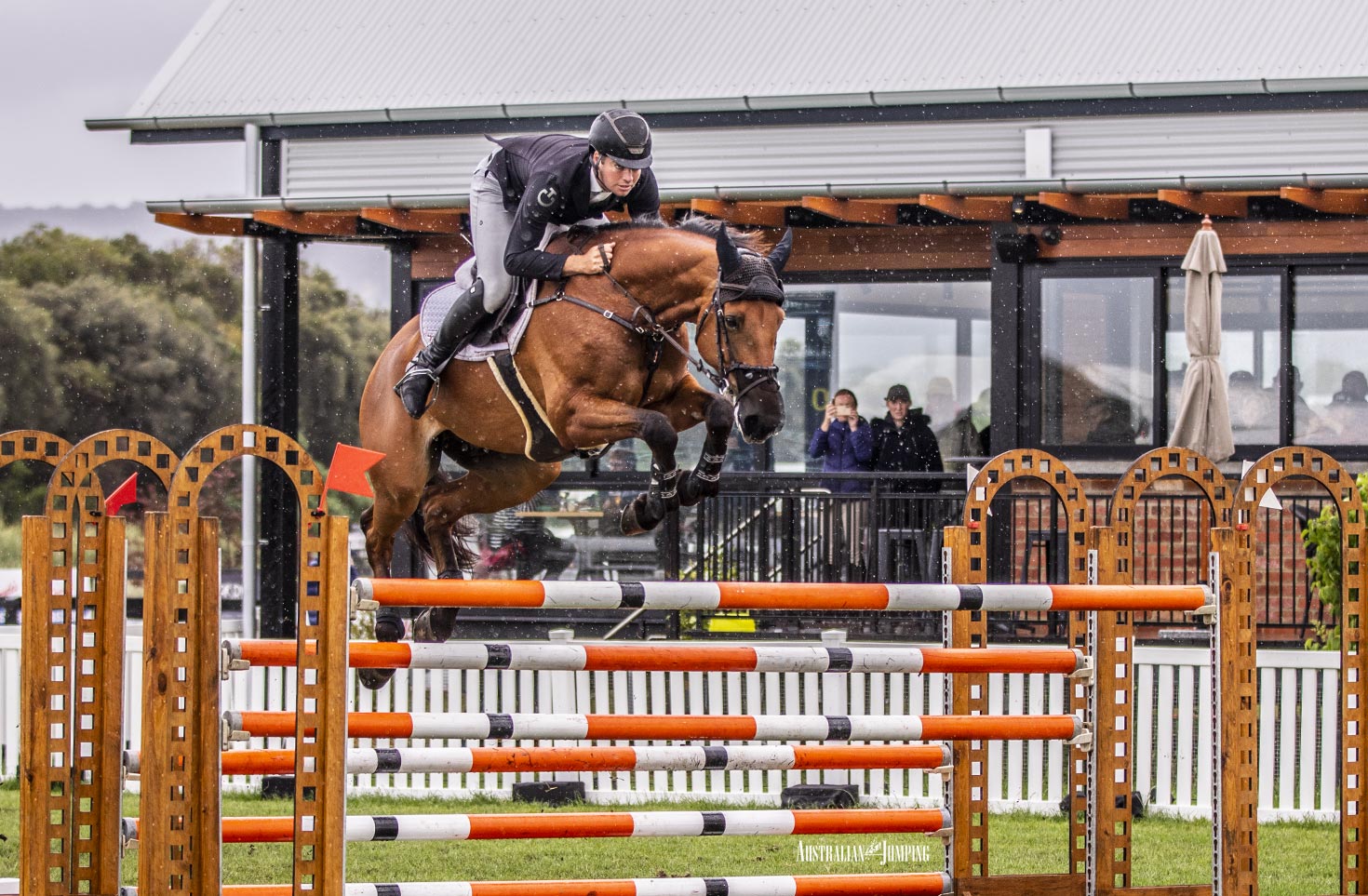 Australian Jumping
Above: Tom McDermott and Alpha Activity
Today saw Day 2 action in the Pryde's EasiFeed Australian Jumping Championships. Unfortunately, the weather was not kind to the organisers with competitors often asked to jump in rain and strong cold winds. However, while the weather may not have been top notch, the jumping was!
Advertisement

Today saw first round action the three main championships, namely the Senior, Junior and Young Rider divisions. Congratulations to all the winners and placegetters from today.
Below is a listing of the placegetters in today's classes and if you would like to catch up with yesterday's results, please click HERE.
Pryde's EasiFeed Main Arena
CLASS 6: Horseland – Australian Junior Championship Round 1 – 1.20m
The first twelve placegetters in this class were:
| | | | |
| --- | --- | --- | --- |
| PLACE | RIDER | HORSE | $ |
| 1st | Sally Simmonds | Oaks Chifley | $125 |
| 2nd | Chloe Mannell | CP Fleur De Lyse | $100 |
| 3rd | Phoebe Riordan | Diamond B Versailles | $85 |
| 4th | Sally Simmonds | Chio MS | $65 |
| 5th | Emily Baldwin | Twins Ava | $55 |
| 6th | Jayden Hanley | Vertigo | $50 |
| 7th | Sophie Hatch | Rosthwaite Belvedere | $40 |
| 8th | Clemency Hughes | Nicolette | $35 |
| 9th | Hayden Parker | Its Lux Nitro | $35 |
| 10th | Isabella Du Plessis | Steel Magnolia | $30 |
| 11th | Anneliese Wansey | KS Saint Patrick | $25 |
| 12th | Kendall Richards | Flint Hill | $25 |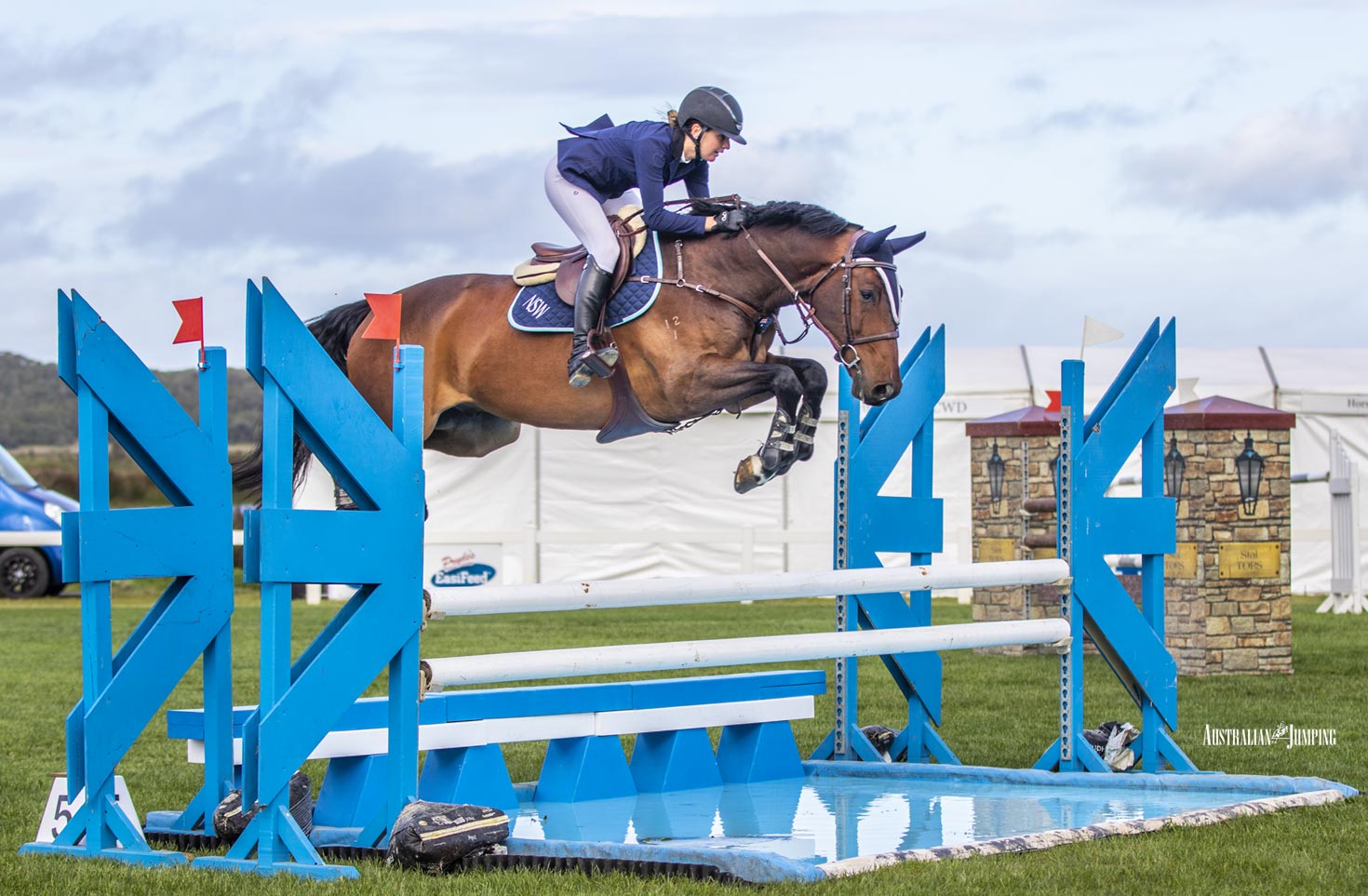 Sally Simmonds and Oaks Chifley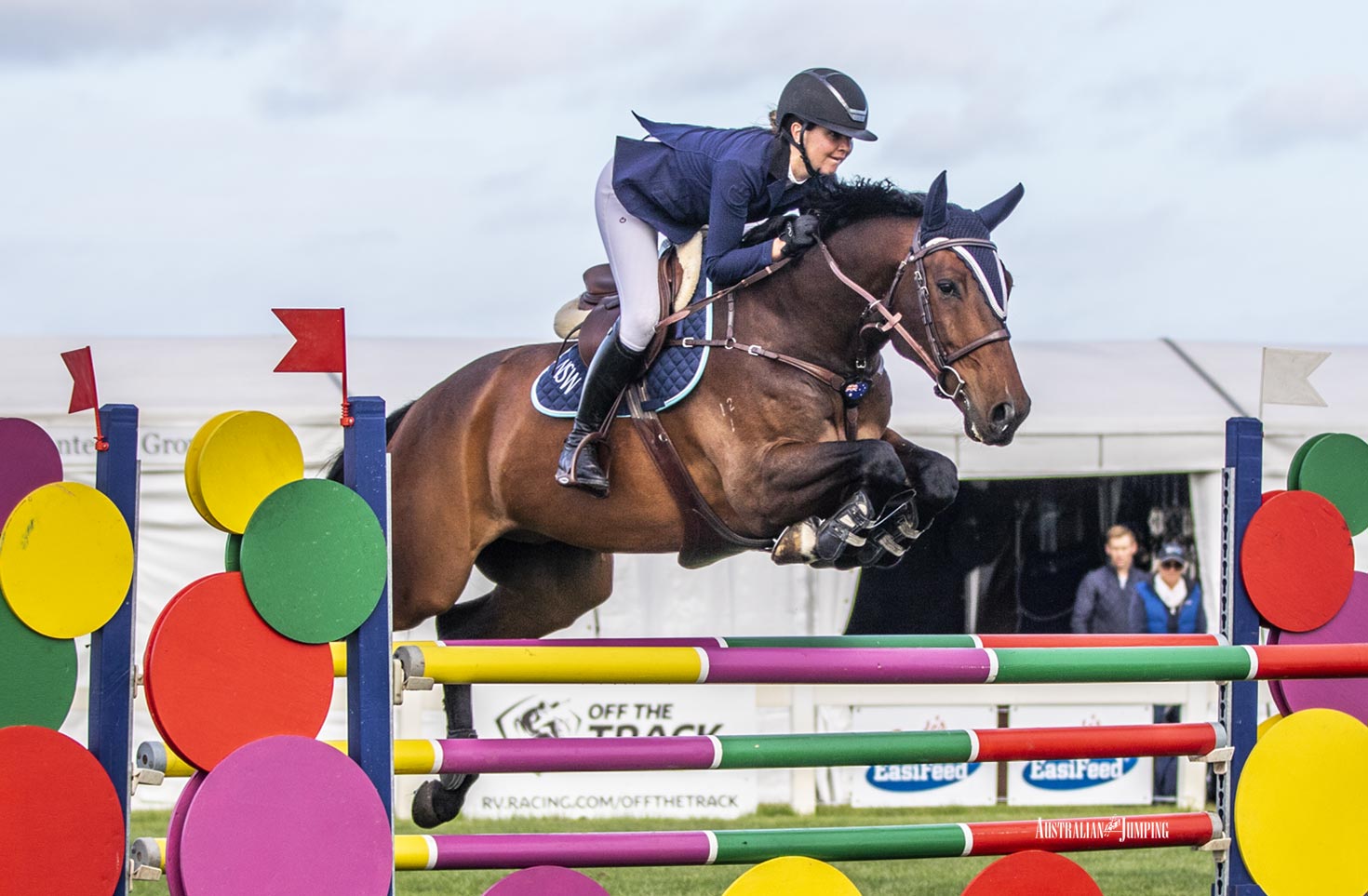 Sally Simmonds and Oaks Chifley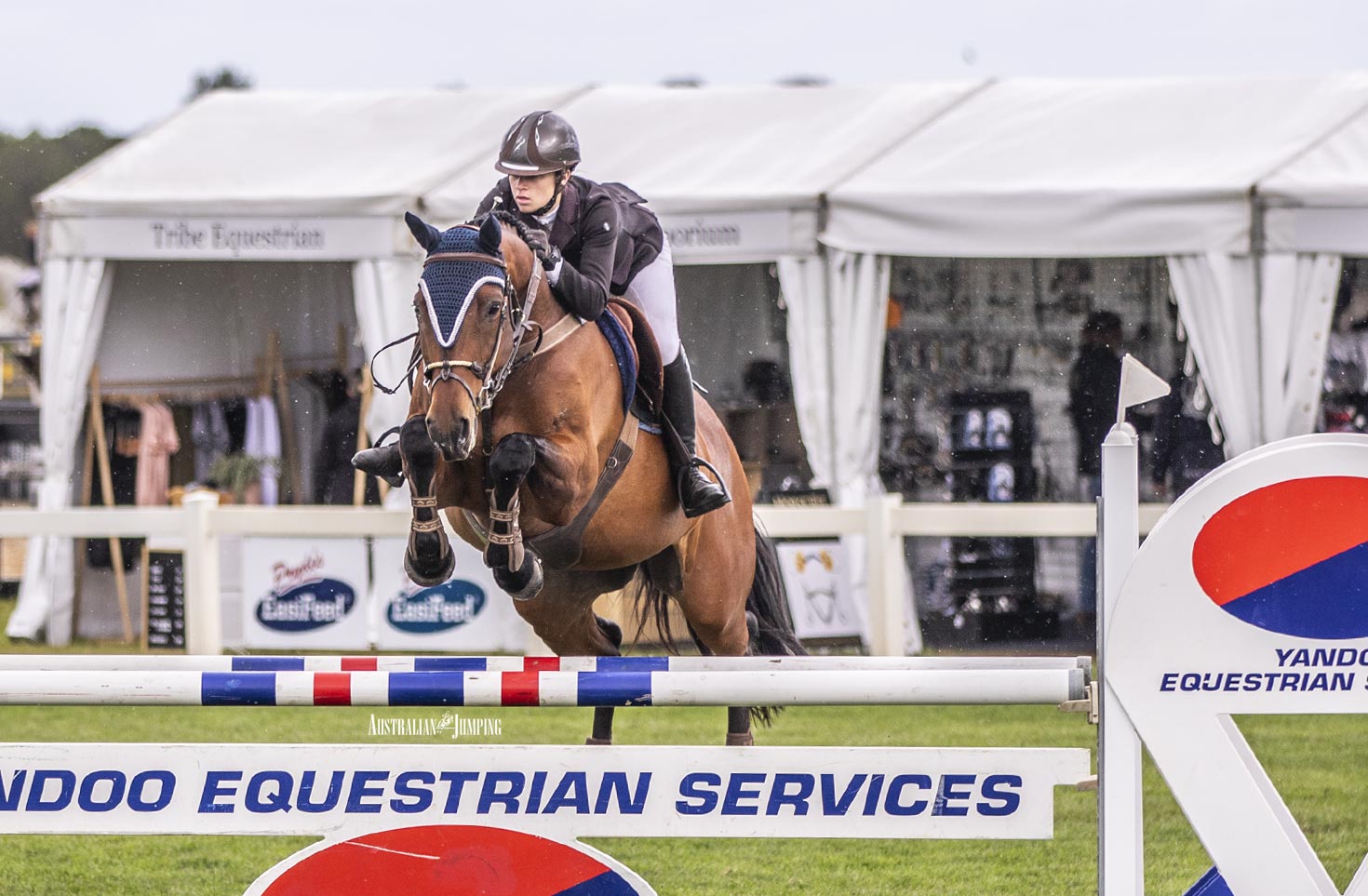 Chloe Mannell and CP Fleur De Lyse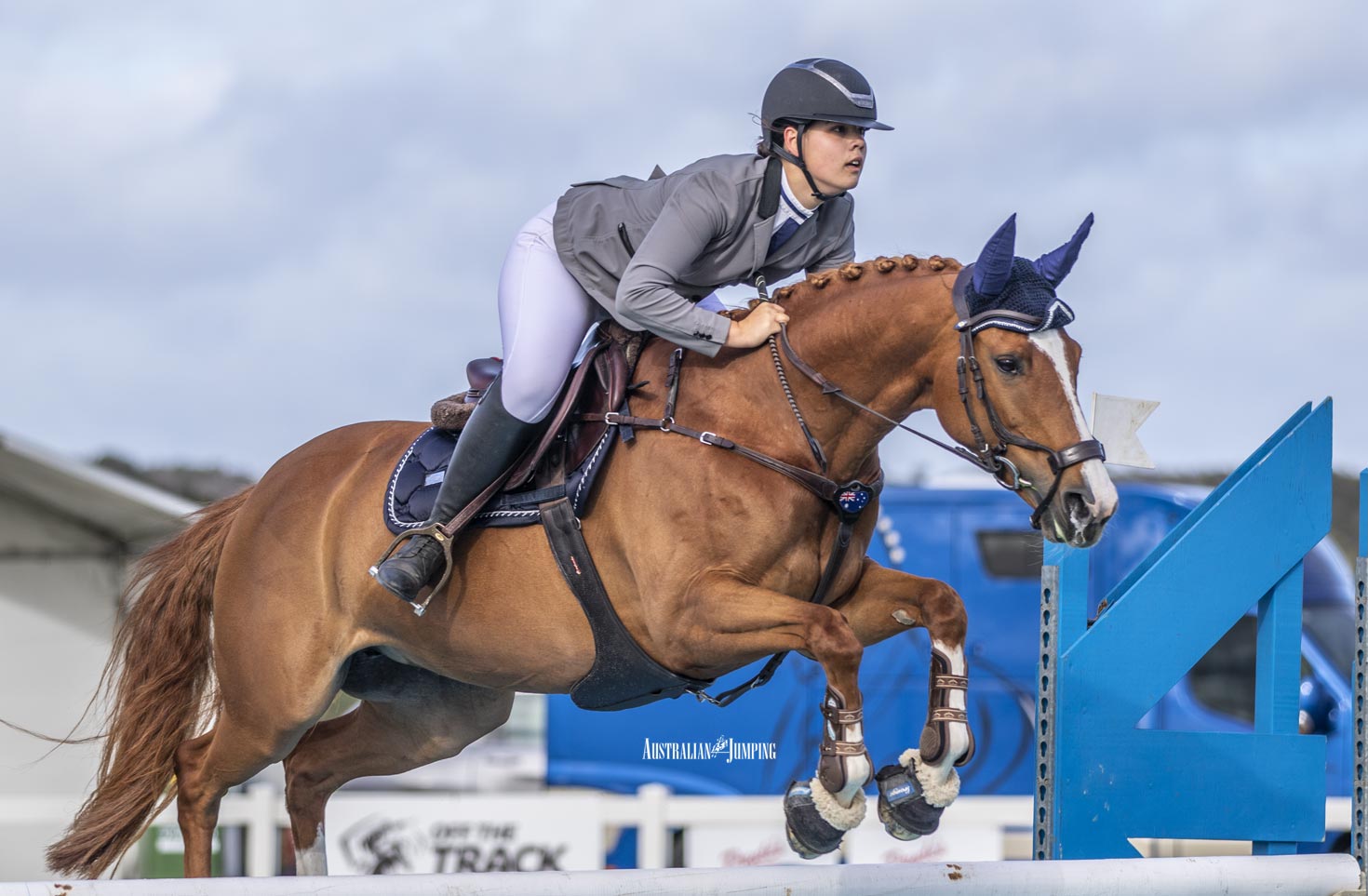 Phoebe Riordan and Diamond B Versailles
CLASS 7: Pryde's EasiFeed – Australian Senior Championship Round 1 – 1.40m
The first ten placegetters in this class were:
| | | | |
| --- | --- | --- | --- |
| PLACE | RIDER | HORSE | $ |
| 1st | Tom McDermott | Alpha Activity | $450 |
| 2nd | Tom McDermott | Elegance De La Charmille | $350 |
| 3rd | David Cameron | Finch Farm Clifford | $250 |
| 4th | Katie Laurie | Cera Caruso | $250 |
| 5th | Jamie Kermond | Yandoo Oaks Constellation | $175 |
| 6th | Olivia Hamood | Jane Fonda DVD | $150 |
| 7th | Katie Laurie | Django | $125 |
| 8th | Chris Chugg | PSS Levilensky | $100 |
| 9th | Amber Fuller | CP Aretino | $90 |
| 10th | Brooke Langbecker | Quintago 1 | $80 |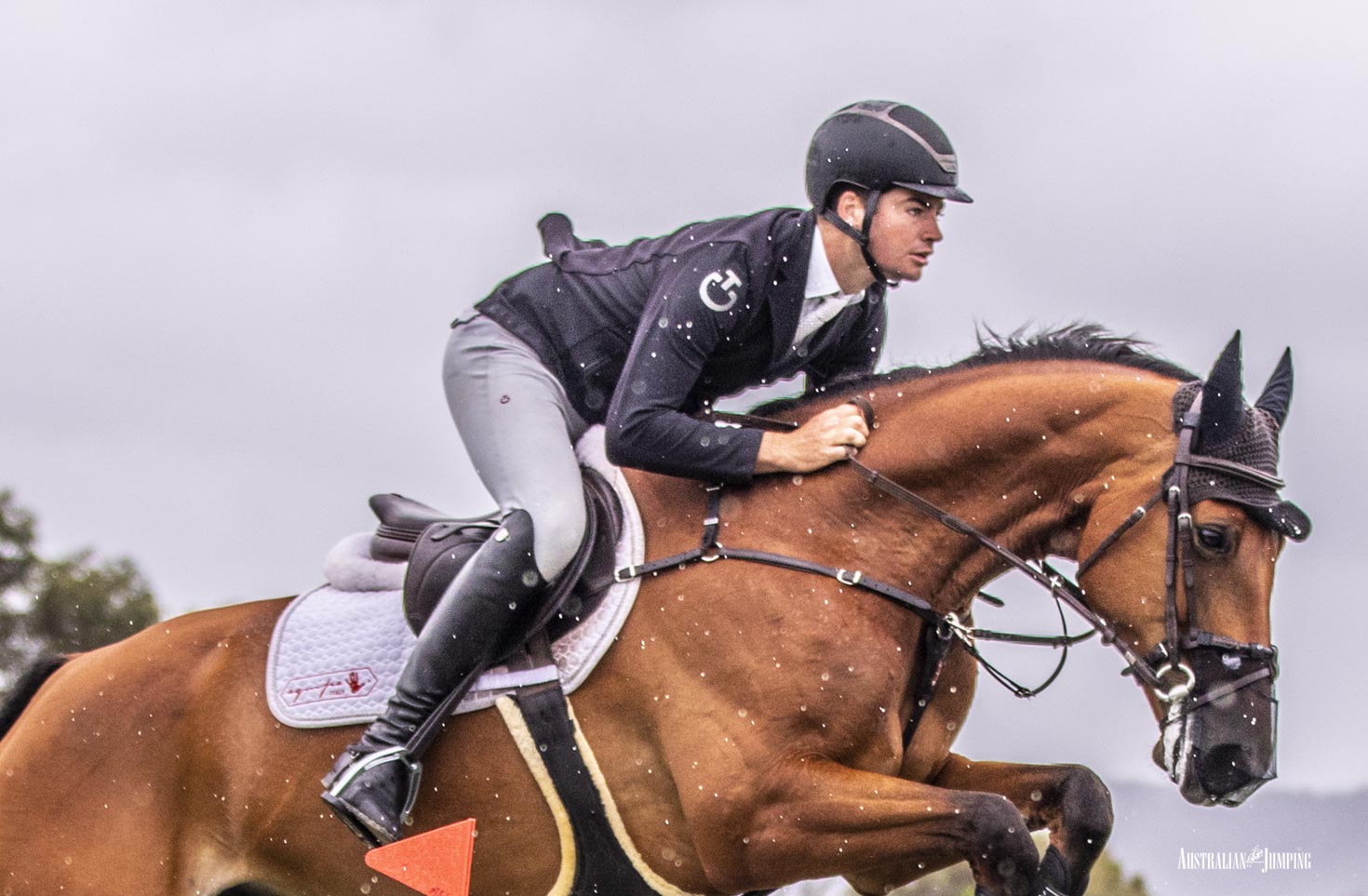 Tom McDermott and Alpha Activity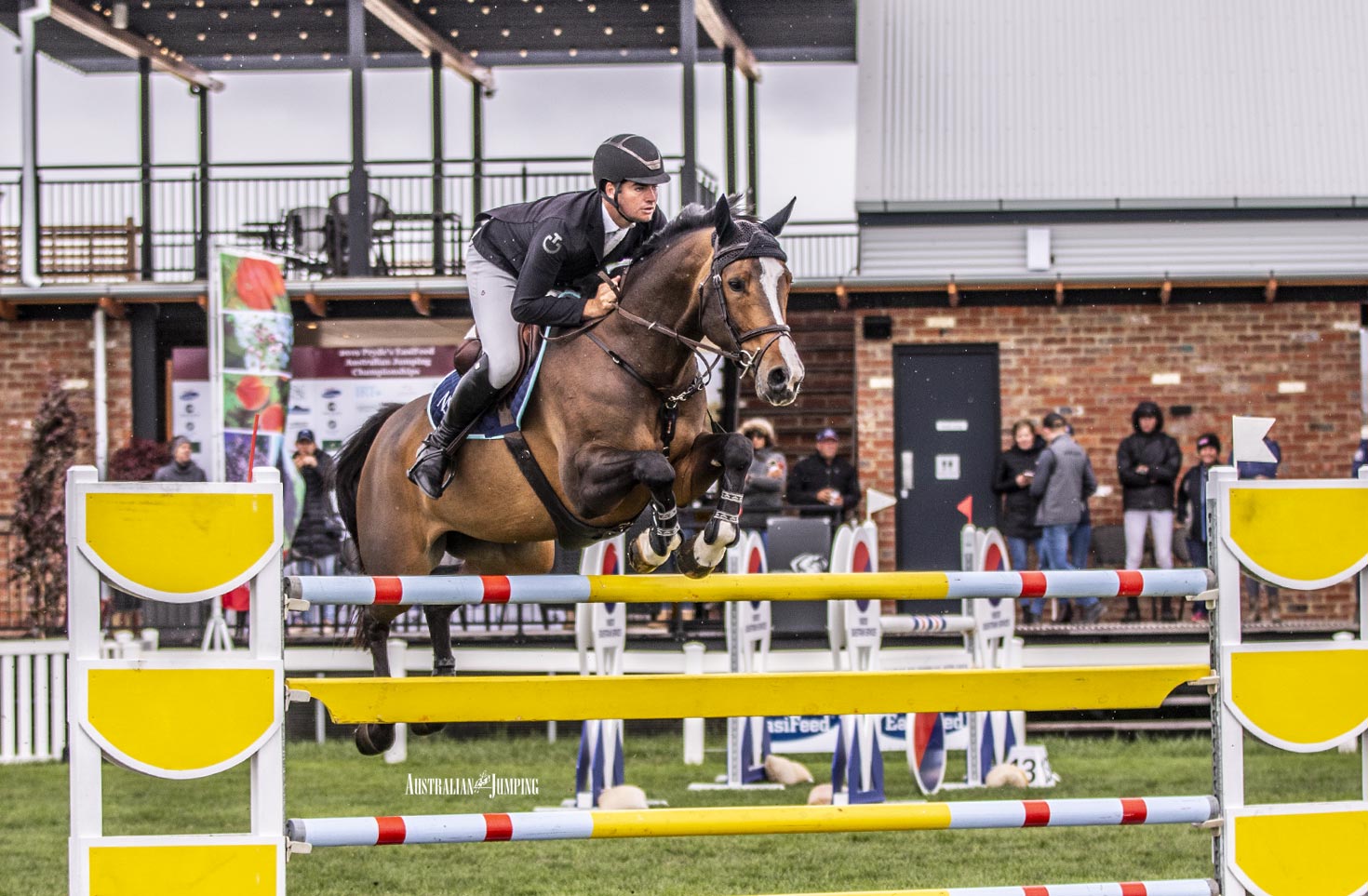 Tom McDermott and Elegance De La Charmille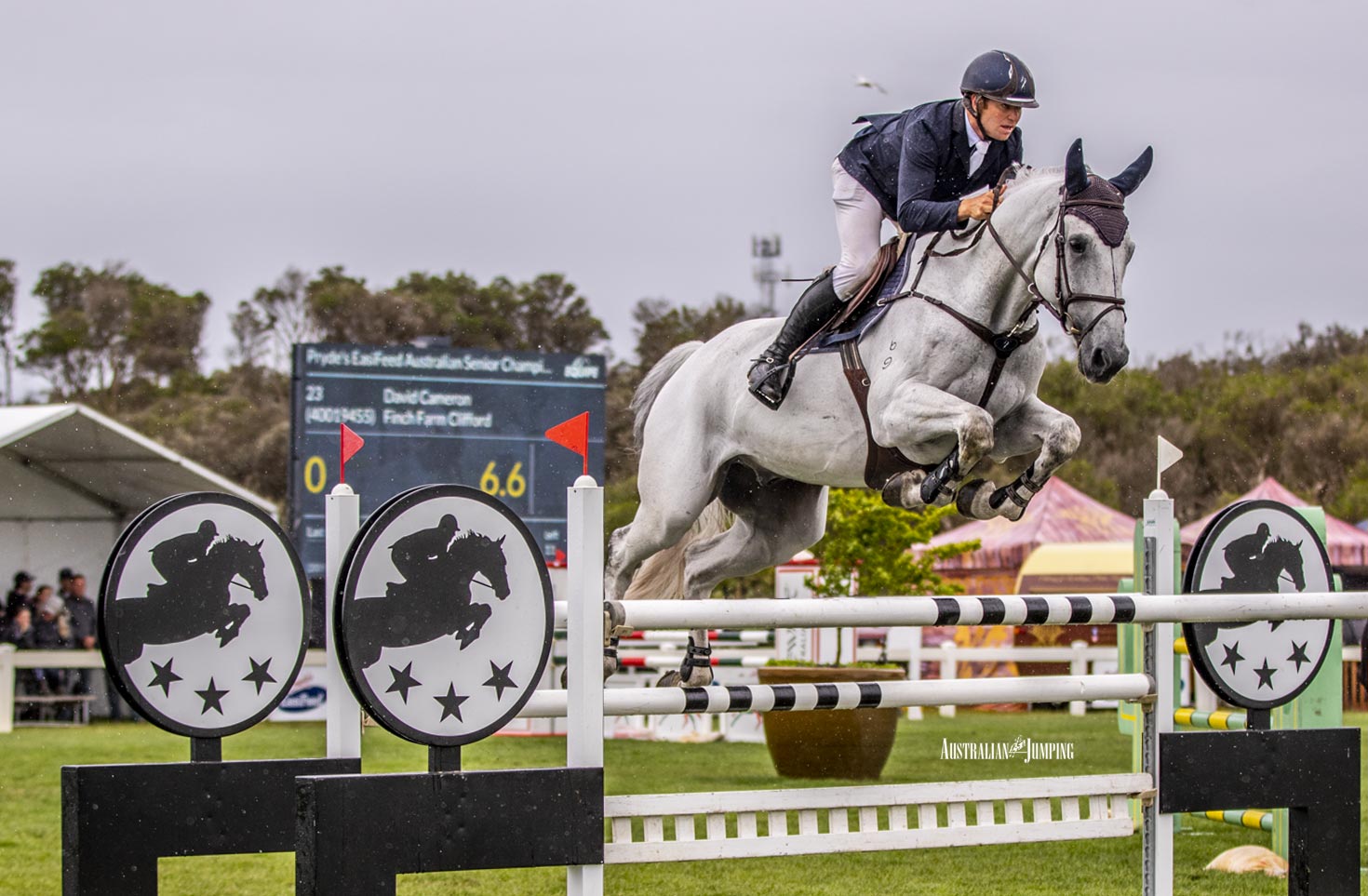 David Cameron and Finch Farm Clifford
CLASS 8: IRT – Australian Young Rider Championship Round 1 – 1.30m
The first ten placegetters in this class were:
| | | | |
| --- | --- | --- | --- |
| PLACE | RIDER | HORSE | $ |
| 1st | Madeline Sinderberry | Ciel | $175 |
| 2nd | Jamie Priestley | Oaks Diamantina | $150 |
| 3rd | Amelia Douglass | Sirius Du Granit | $125 |
| 4th | William Dight | Thea | $100 |
| 5th | Jessie Rice-Ward | CP Southern Cross | $75 |
| 6th | Amelia Douglass | Cassis Z Ten Halven | $60 |
| 7th | Jessica Tripp | Diamond B Verona | $35 |
| 8th | Lucy Evans | Viva Joy | $35 |
| 9th | Lucia Aldridge | Ollie Olae | $30 |
| 10th | Isobel Guinness | Oaks Donatello | $30 |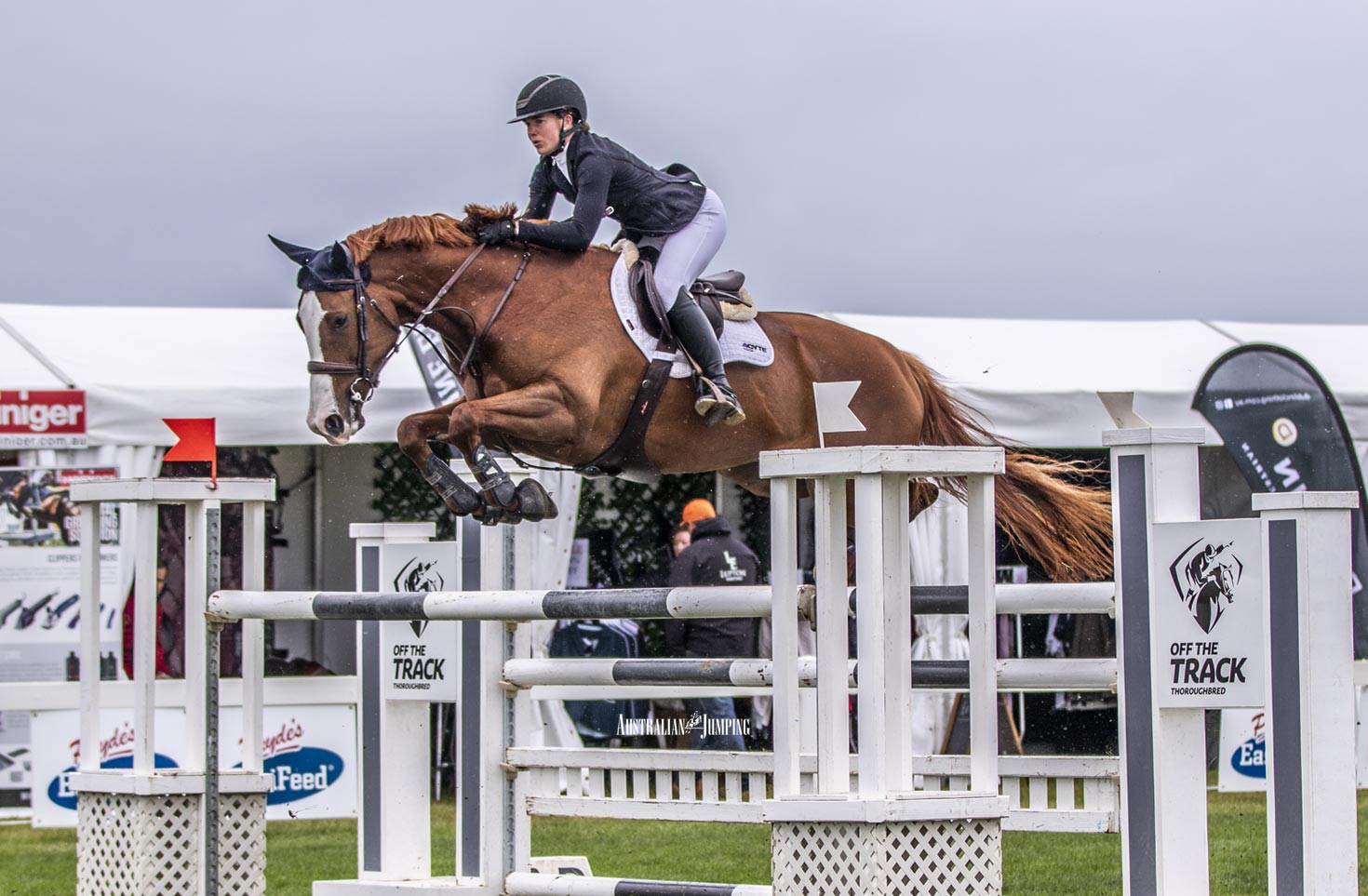 Madeline Sinderberry and Ciel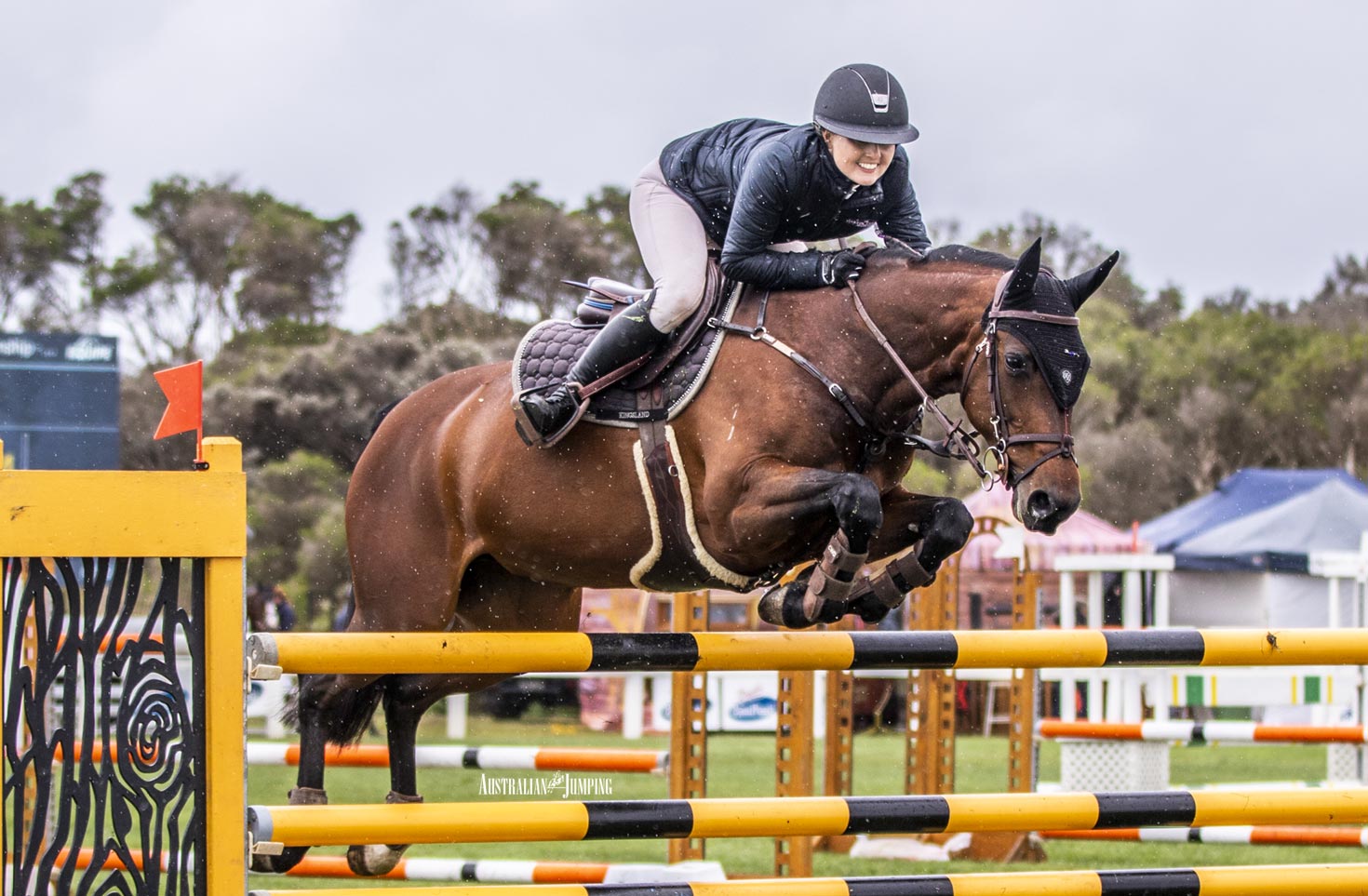 Jamie Priestley and Oaks Diamantina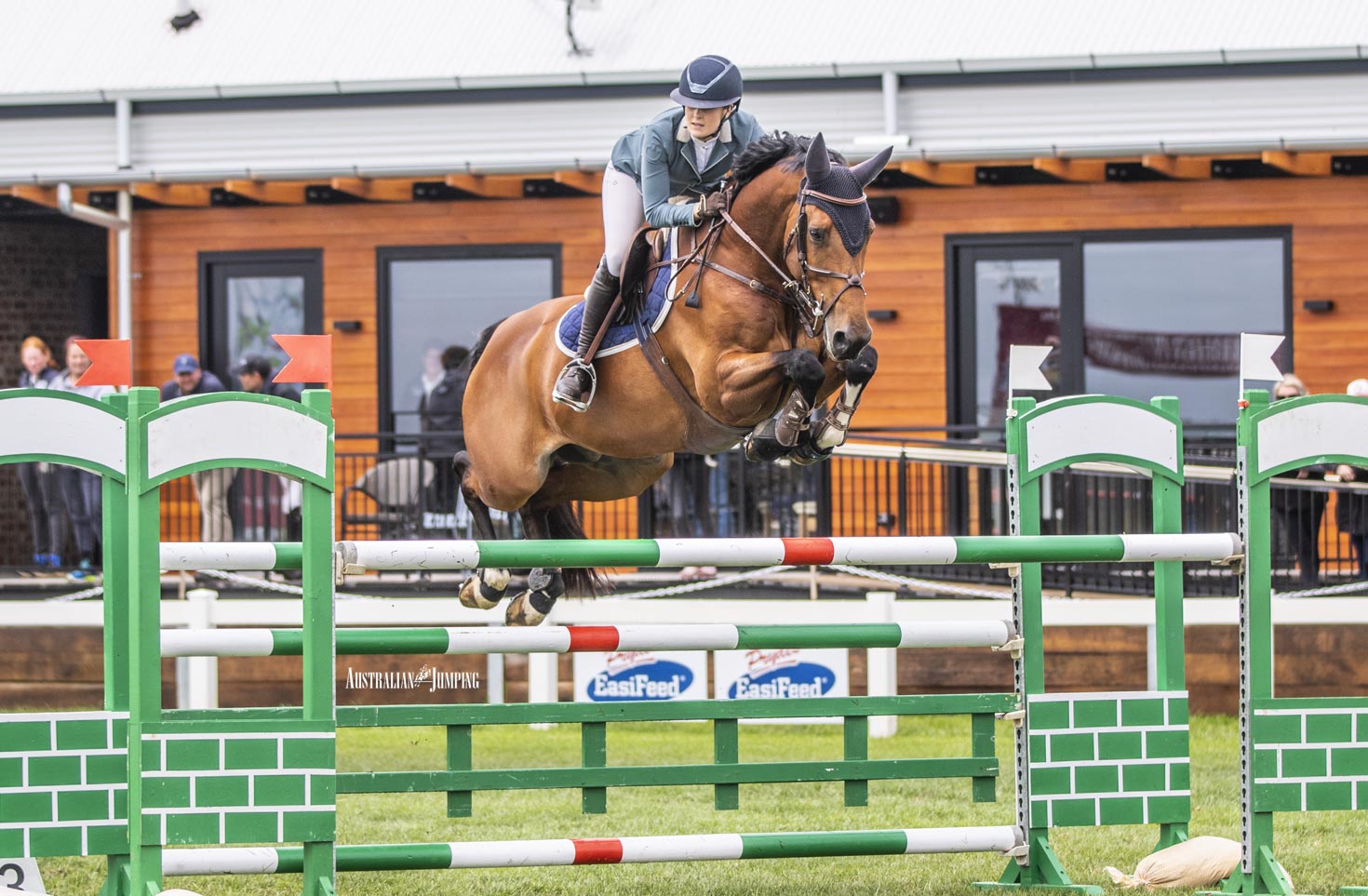 Amelia Douglass and Sirius Du Granit
CLASS 9: Kiernan Plant Hire – Future Stars Round 2 – 1.30m
The first ten placegetters in this class were:
| | | | |
| --- | --- | --- | --- |
| PLACE | RIDER | HORSE | $ |
| 1st | Tom McDermott | Yalambi's Harvard | $350 |
| 2nd | Tom McDermott | Cachassini 11 | $275 |
| 3rd | Billy Raymont | YPH Picasso | $220 |
| 4th | Olivia Hamood | Sundance GHP | $120 |
| 5th | Tom McDermott | Carl Aus Pausin | $90 |
| 6th | Clem Smith | Oaks Conjurer | $70 |
| 7th | Tom McDermott | Schatzi | $60 |
| 8th | Billy Raymont | Tulara Cassiko | $50 |
| 9th | Phillip Lever | Calvino | $40 |
| 10th | Brooke Langbecker | Black Jack IXE | $40 |
Advertisement

Homes and Acreage Arena 2
CLASS 10: Champagne Pommery – Ruby Series Round 1 – 1.25m
The first ten placegetters in this class were:
| | | | |
| --- | --- | --- | --- |
| PLACE | RIDER | HORSE | $ |
| 1st | Billy Raymont | Alina | $225 |
| 2nd | Tom McDermott | Valska | $200 |
| 3rd | Tyrone Latham | Ellesmere Amici | $175 |
| 4th | Clem Smith | Quantico 12 | $150 |
| =5th | Rebecca Jenkins | Silver Shades | $110 |
| =5th | Chloe Hughes | Ned O'Reilly | $110 |
| 7th | Billy Raymont | Bassina | $75 |
| 8th | Sam Overton | Yirrkala Cameron | $50 |
| 9th | Mykaela Briggs | Jellystone Park Cassime | $40 |
| 10th | Amanda Ross | RLE Poynston Will | $30 |
CLASS 11: Interpath – Mini Prix Round 2 – 1.40m
The first ten placegetters in this class were:
| | | | |
| --- | --- | --- | --- |
| PLACE | RIDER | HORSE | $ |
| 1st | Chris Chugg | KG Queenie | $350 |
| 2nd | Brooke Campbell | Copabella Voltage | $275 |
| 3rd | Tom McDermott | Yalambi's Finnigan | $220 |
| 4th | Elliott Reeves | PSS Chantilly | $180 |
| 5th | Robert Palm | Jaybee Vibrant | $120 |
| 6th | Tallara Cameron | Oaks Come By Chance | $100 |
| 7th | Bridget Berry | Turn It Blue NZPH | $75 |
| 8th | Chelsea Kessey | Diamond B Vigo | $75 |
| 9th | James Arkins | Eurostar 1 | $50 |
| 10th | Kristy Bruhn | Jack | $50 |
CLASS 12a: Yandoo Equestrian – Open – 1.10m
The first eight placegetters in this class were:
| | | | |
| --- | --- | --- | --- |
| PLACE | RIDER | HORSE | $ |
| 1st | Alexandra Shannon | Denison Park Corduroy | $125 |
| 2nd | Lisa North | Magical Mystical Merlin | $100 |
| 3rd | Taylor Robertson | Yandoo Chat | $85 |
| 4th | Chelsea Hair | Cheech | $65 |
| 5th | Grace McCarthy | Ab Elaganz | $55 |
| 6th | Lara Christoffelsz | Yandoo Aphrodite | $45 |
| 7th | Lola Moran | Trafalgar Twist | $35 |
| 8th | Kate Edwards | Professor B | $30 |
CLASS 12b: Racing Victoria – Australian OTT Championship Round 1 – 1.10m
Click HERE for more on this class. The first eight placegetters in this class were:
| | | | |
| --- | --- | --- | --- |
| PLACE | RIDER | HORSE | $ |
| 1st | Hayley Morris | Lady Constance | $125 |
| 2nd | Kylie Zabel | Dusty Girl | $100 |
| 3rd | Tinky Konecny | Hot And Spicy | $85 |
| 4th | Julie Bramucci | Rafiki Cielo | $65 |
| 5th | Liz Hoy | Where's Cameron | $55 |
| 6th | Sheree Gotts | Bannock Bay | $45 |
| 7th | Lauren Bolzon | Madagascar | $35 |
| 8th | Katie Clarke | It's Been Good | $30 |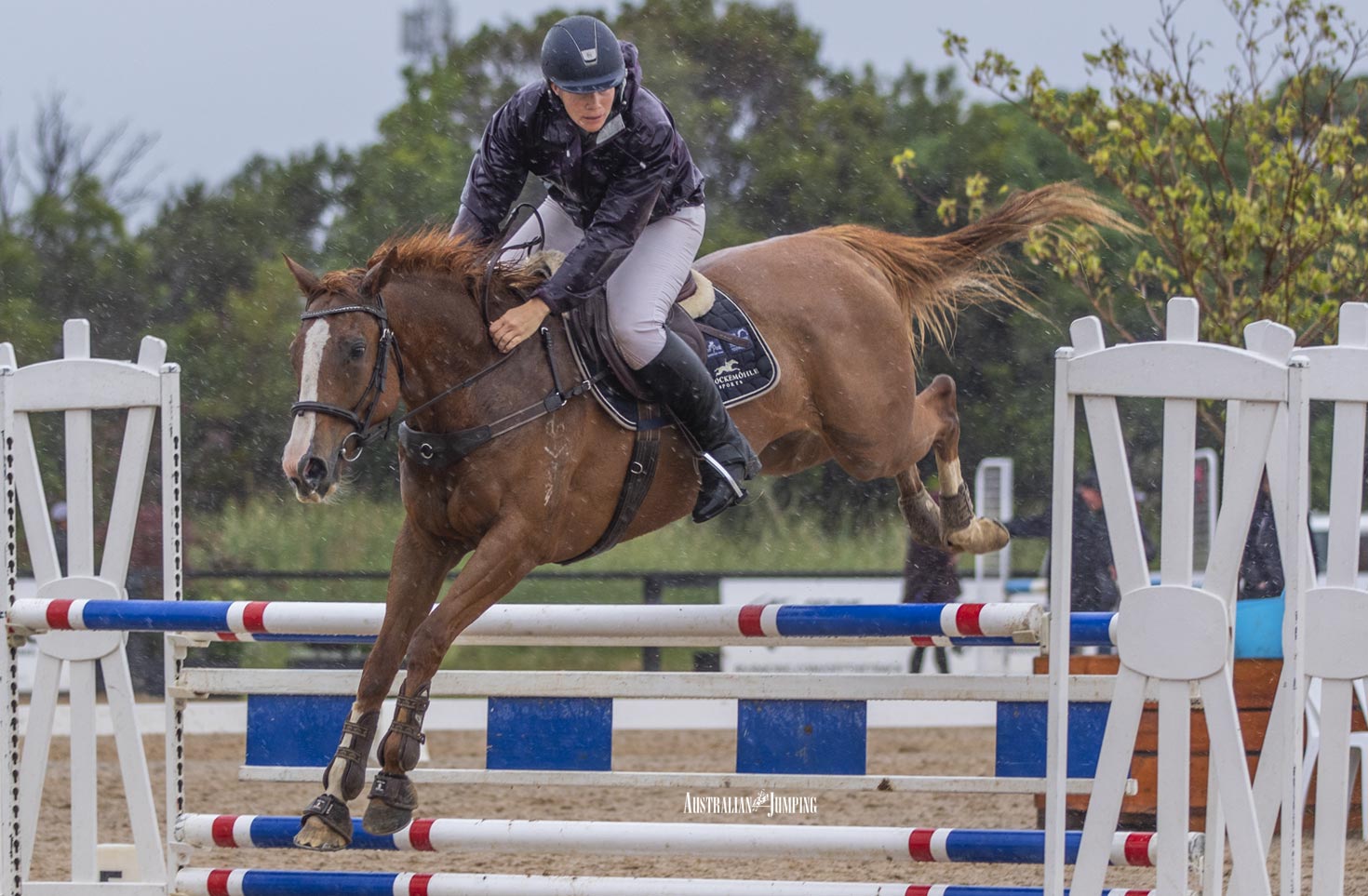 Kylie Zabel and Dusty Girl
Tulara Warmbloods Arena 3
CLASS 13: Leader Equine – Australian Amateur Championship Round 1 – 1.10m
The first eight placegetters in this class were:
| | | | |
| --- | --- | --- | --- |
| PLACE | RIDER | HORSE | $ |
| 1st | Stacey Betar | Diamond B Britannia | $125 |
| 2nd | Robert Agnew | LH Beckham | $100 |
| 3rd | David Prior | Highfield Luda K1 | $85 |
| 4th | Stuart Abrahams | Glen Haven Avion | $65 |
| 5th | Cindy Morrison | Noblewood Park Lucinda | $55 |
| 6th | Jessie Smith | Ngahiwi Cisco | $45 |
| 7th | Ken Weir | Cosmorex Coffee Vienetta | $35 |
| 8th | Tony Erickson | Isle Of Remire | $30 |
CLASS 14: Kelvin Grove Equestrian – Emerald Series Round 2 – 1.15m
The first ten placegetters in this class were:
| | | | |
| --- | --- | --- | --- |
| PLACE | RIDER | HORSE | $ |
| 1st | James Arkins | Hattrick | $250 |
| 2nd | Murray Sproull | Tulara Poptop | $220 |
| 3rd | Phil Stephens | Baluce | $175 |
| 4th | Rebecca Burns | Cassiana | $125 |
| 5th | Jess Kiernan | Cera Cascaletto | $100 |
| 6th | Madeline Sinderberry | Keilor Bamboo | $75 |
| 7th | Seumas Marwood | Wild Kard | $65 |
| 8th | Robert Agnew | Fields Of Harvest | $55 |
| 9th | William Wood | Powerhouse Park Ego Roc | $40 |
| 10th | Tori Stuckey | Jaybee Ballon D'or | $35 |
CLASS 15: Flemings Nurseries – Open – 1.25m
The first eight placegetters in this class were:
| | | | |
| --- | --- | --- | --- |
| PLACE | RIDER | HORSE | $ |
| 1st | William Wood | Platinum Blonde | $175 |
| 2nd | Hannah Hardy | Great Gatsby K1 | $150 |
| 3rd | Jessica Grant | For Fly Heldenlaan Z | $125 |
| 4th | Alyssa Ho | Equador MVNZ | $100 |
| 5th | Charlie Eason | Oaks Coolangatta | $75 |
| 6th | Wendy Schaeffer-McDonald | Gitta Bella | $50 |
| 7th | Sammi Dernee | Lady Gaga G | $35 |
| 8th | Darcy Wade | Wondaree Ruped | $35 |
Equestrian Victoria Arena 4
CLASS 16: Heiniger – Ivory Series Round 1 – 0.80m
The first eight placegetters in this class were:
| | | | |
| --- | --- | --- | --- |
| PLACE | RIDER | HORSE | $ |
| 1st | Jorja Lenehan | Anasazi Princess | $40 |
| 2nd | Zara Adnams | Elcarium Starlight | $35 |
| 3rd | Sophie Baldwin | Mirrabel Patterson | $30 |
| 4th | Charlotte Pease | Tilani Rox | $20 |
| 5th | Charlie Magnier | Meersbrooke Iced Liqueur | $20 |
| 6th | Ebony Beecroft | Raenbak Farm Flicker | $10 |
| 7th | Alice Lawrence | Centre Stage Love To Love | $10 |
| 8th | Imogen Lindh | Dexter | $10 |
CLASS 17: Peter Horobin Saddlery – Pearl Series Round 1 – 0.90m
The first eight placegetters in this class were:
| | | | |
| --- | --- | --- | --- |
| PLACE | RIDER | HORSE | $ |
| 1st | Cohen Wade | Lakevale Tarwyn | $50 |
| 2nd | Charly Robinson-Smith | Wyann Shadow | $40 |
| 3rd | Charlie Magnier | His Royal Emblem | $30 |
| 4th | Charlie Magnier | Master Stevie G | $25 |
| 5th | Amelia Tsilfidis | Pride of Gold | $20 |
| 6th | Alexandra Inglis | Kaledon Billy The kid | $20 |
| 7th | Simone Sorenson | Bayview Wish List | $10 |
| 8th | Sophie Baldwin | Mirrabel Patterson | $10 |
CLASS 18: BJS Insurance – Opal Series Round 1 – 1.00m
The first eight placegetters in this class were:
| | | | |
| --- | --- | --- | --- |
| PLACE | RIDER | HORSE | $ |
| 1st | Charly Robinson-Smith | Wyann Shadow | $60 |
| 2nd | Jessica Grant | Blackall Park Roxy | $50 |
| 3rd | Teigan Matthews | Equus Hooroo | $40 |
| 4th | Mark Griffiths | Mr Ali | $30 |
| 5th | Tilley Fair | Vivacious | $25 |
| 6th | Tanya Johnston | Veneficus | $25 |
| 7th | Debra Heyes | McManus | $20 |
| 8th | Tim Haworth | Elm Tree Loki | $20 |
View Comments